There is some that likes the city—
Grass that's curried smooth and green,
Theaytres and stranglin' collars,
Wagons run by gasoline—
But for me it's hawse and saddle
Every day without a change,
And a desert sun a-blazin'
On a hundred miles of range.

Just a-ridin', a-ridin'—
Desert ripplin' in the sun,
Mountains blue along the skyline—
I don't envy anyone
When I'm ridin'.

When my feet is in the stirrups
And my hawse is on the bust,
With his hoofs a-flashin' lightnin'
From a cloud of golden dust,
And the bawlin' of the cattle
Is a-coming' down the wind
Then a finer life than ridin'
Would be mighty hard to find.

Just a-ridin, a-ridin'—
Splittin' long cracks through the air,
Stirrin' up a baby cyclone,
Rippin' up the prickly pear
As I'm ridin'.

I don't need no art exhibits
When the sunset does her best,
Paintin' everlastin' glory
On the mountains to the west
And your opery looks foolish
When the night-bird starts his tune
And the desert's silver mounted
By the touches of the moon.

Just a-ridin', a-ridin',
Who kin envy kings and czars
When the coyotes down the valley
Are a-singin' to the stars,
If he's ridin'?

When my earthly trail is ended
And my final bacon curled
And the last great roundup's finished
At the Home Ranch of the world
I don't want no harps nor haloes,
Robes nor other dressed up things—
Let me ride the starry ranges
On a pinto hawse with wings!

Just a-ridin', a-ridin'—
Nothin' I'd like half so well
As a-roundin' up the sinners
That have wandered out of Hell,
And a-ridin'.
© by Charles Badger Clark.
Used here with permission.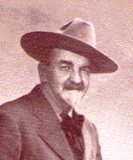 Charles Badger Clark (1883 – 1957) was born in Iowa, but grew up in South Dakota.  He attended Dakota Wesleyan University, but dropped out and lived in Cuba for a while before returning to live first in Deadwood, South Dakota, then Tombstone, Arizona. During his years in Arizona, Badger was caretaker for a ranch. His letters home were often written in verse and his stepmother ended up submitting the one above to a magazine, which published it and paid Badger $10.  He continued to write poetry for the next 30 years and was eventually named Poet Laureate of South Dakota. Several of Badger's poems have been set to music. There's a wonderful profile of him here.
Wilda Morris:
Love this, including the unexpected, such as "And my final bacon curled."
Posted 01/18/2023 10:37 AM
Lori Levy:
Appealing picture of the cowboy life!
Posted 01/17/2023 12:30 PM
peggy.turnbull:
I read Badgers cowboy poems to my dad over the phone when he was in pandemic lockdown. Thanks for bringing back this memory to me.
Posted 01/17/2023 11:10 AM
Leslie Hodge:
Love this! The contrasts, language and images.
Posted 01/17/2023 09:33 AM
Darrell Arnold:
Ridin' is one of those Clark poems that one hears as a song at many cowboy poetry and music gatherings. He was one of those perceptive observers who got it right when describing cowboy ways. His "Cowboys' Prayer" is widely recited and held dear by the cowboy kind.
Posted 01/17/2023 08:52 AM
Larry Schug:
Thanks for another cowboy poem, Jayne. These words are a painting and a song as well as a poem. Especially, thanks for the link to learn more about Clark.
Posted 01/17/2023 07:41 AM
Kay N. Sanders:
LOVE this! Makes me want to get back in the saddle again with some Gene Autry and Roy Rogers movies.
Posted 01/17/2023 07:21 AM