At five years old, I knew what I would be,
spurred on by watching afternoon TV.
I'd learn to ride a trusty snow-white steed
and I'd be praised for every daring deed:
trailing clouds of dust like the Lone Ranger,
I'd nab the outlaws, saving folks from danger.
My red bandana, jeans, and Stetson hat
would mark me as a cowgirl, and that was that.
My older sister sneered, "There's no such thing."
"Well, there's Dale Evans!" I let fling.
She rolled her eyes. "New Jersey's your address.
You have to be born on a ranch in the West!"
She left me in a low, unsettled state
where dreams were riding far afield. But fate,
quite soon, would shrink my range of career courses:
tests revealed my allergy to horses.


© by Barbara Lydecker Crane.
Used with the author's permission.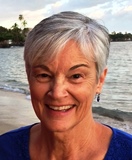 Barbara Lydecker Crane is a Boston-based poet and artist who likes to travel when the world permits. She and her husband have two daughters and four grandchildren who are delightful (usually). Her three published books are Zero Gravitas (White Violet Press), Alphabetricks (Daffydowndilly Press), and BackWords Logic (Local Gems Press).
Anastasia:
Those darn allergies - thanks for the laugh, Barbara!
Posted 05/14/2023 10:58 PM
Lori Levy:
I like the humor in this poem. Wasnt expecting this ending!
Posted 01/16/2023 02:45 PM
carlpalmer:
A great title, Barbara and it gets better and better from there.
Posted 01/16/2023 01:26 PM
RonPoems:
Fun memory provoking poem. I was Hopalong Cassidy as a child and made deliveries to Roy Rogers house when I was a teenager.
Posted 01/16/2023 11:34 AM
TheSilverOne:
What fun! Loved those Sat. westerns, too.
Posted 01/16/2023 10:57 AM
Cathy's Sister:
I remember my cowgirl dress as my 5 year old birthday present! Laughed out loud at the ending!
Posted 01/16/2023 10:35 AM
peggy.turnbull:
I shared those cowgirl dreams. This poem is delightful.
Posted 01/16/2023 10:30 AM
paradea:
Cute!!
Posted 01/16/2023 09:55 AM
Victoria:
According to a very recent Wall Street Journal article there is a new craze among city dwellers. Stetsons and cowboy boots are back among the sidewalks and sky scrapers. Maybe these would-be cowboys need a sensible sister to clue them in to reality. Or maybe adults need a little bit of fantasy to help them along in the everyday world.
Posted 01/16/2023 09:55 AM
Darrell Arnold:
Fun poem. Makes me chuckle. The cowboys, the working ranch people, are still out there in the hundreds of thousands. It's a genre and a lifestyle that still matters.Cowboy culture, while constantly under threat, is still thriving. The next six poets were, or still are, immersed in that world-famous culture, the culture of the cowboy.
Posted 01/16/2023 08:35 AM
Larry Schug:
Influenced by the same TV cowboys, my brother and two young buddies ran away to Texas to be cowboys, but only made it a couple miles. We were about five years old. Thanks for bringing back that memory with a cool poem, Barbara.
Posted 01/16/2023 08:09 AM