Weathered men with leathered skin,
Talkin' proud while ridin' in,
What a joy the day has been!
Hard work brings satisfaction.

Horses' heads are hangin' low,
Out at dawn they had to go
To canyon rim and draw below,
With lots of ropin' action.

Early on, the chase was fun,
Breakin' brush while at a run,
But cow work 'neath a fervent sun
Gives horse and man a testin'.

Back at barn at end of day,
Saddles pulled, fed grain and hay,
Horses roll and nip and play.
They've earned some days of restin'.

Riders put away their gear,
Wait for supper, grab a beer,
Recall each captured cow and steer.
They laugh. No hint of sorrow.

Joyful cowboys, young and strong,
They're livin' life where they belong —
The cowboy life of poem and song.                                                                  
Fresh horses wait, tomorrow.


From A Bard in Boots (Forthcoming in 2023).
Used here with permission.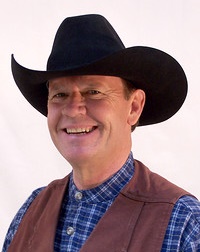 Darrell Arnold has been writing poetry for more than forty years. He was an associate editor at Western Horseman magazine for five years, then launched his own publication, Cowboy Magazine, which ran for nearly eighteen years. Poetry, primarily cowboy poetry, was an integral part of both publications. In the early '90s, Darrell started turning his poetry into songs and has now had more than 20 poems recorded by various western singers; two of them have earned song-of-the-year" awards from Western Writers of America and the Western Music Association. Darrell continues to write poetry and has extended an open invitation to cowboy singers everywhere to team up with him to make more memorable songs. For details and special pricing on his books, contact him at P. O. Box 3097, Colorado City, AZ 86021.
Wilda Morris:
The first line pulled me in and kept me reading.
Posted 01/22/2023 08:47 AM
Michael:
I feel like I'm ridin' a horse. Nice cadence Darrell.
Posted 01/21/2023 11:04 PM
paradea:
In another life, I was "Calamity Jane"!! Love this poem.
Posted 01/21/2023 10:49 PM
Lori Levy:
This poem gives us a clear picture of a cowboys life.
Posted 01/21/2023 02:26 PM
RonPoems:
You had me commited with Weathered men with leathered skin.
Posted 01/21/2023 11:07 AM
bobbi43sml@aol.com:
A singin" singin" blessing for sure. How I love this rhyme scheme. It just rocks you in that saddle again. I too , always wanted to ride the range.
Posted 01/21/2023 10:13 AM
Tom Sharpe:
Good work Darrell. A fun poem.
Posted 01/21/2023 09:51 AM
cork:
I always wanted to be a cowboy riding the open range.
Posted 01/21/2023 09:28 AM
MLove:
I always love Darrell's poems! Such simple, but vivid, descriptions.
Posted 01/21/2023 09:02 AM
Larry Schug:
May we all have "fresh horses wait(ing) tomorrow". I feel like "Livin' the Dream" is a cowboy blessing.
Posted 01/21/2023 07:38 AM