Years have etched the miles in the canyons of his face,
Fingers gnarled and twisted, his back set in a brace
His mind got stuck at thirty, his body eighty-five.
All things told, I reckon, he is lucky he's alive.
He'd gone to school just long enough to learn to read and write
And always figured better things were just beyond his sight.
He'd taken up the cowboy trade, it let him move around,
Freedom was his calling, he was always outward bound.
He plied his skills wherever he could find a horse and cow
And always left before he had the chance to learn to plow.
But years were in a long trot, bringing on impending truth
Leaving tracks between the now, and where he left his youth.
His body finally gave it up and stuck him on the ground
Where wheels became the only means for him to get around.
His memory got all shuffled, simply muddled up in time,
He's living in the moment, back when he was in his prime
He saddled up this morning, headed out for Chico Flat,
He's tending to some heifers there, on brome and Winterfat.
Yesterday was Brush Creek, he summers yearlings there
Before, it was a calving job, then Elko County Fair.
He's starting colts in Weston, hunting mavericks on the Blue,
Packing salt to Winter Camp, then branding with the crew.

Some morning he will saddle-up the horse that no one knows
And ride out for the country where the unleashed spirit goes.
He'll start again to drifting, go to trotting 'cross the land
Where freedom for his soul is found within a cowboy band.


© by Tom Sharpe.
Used with the author's permission.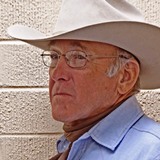 Tom Sharpe was born and raised in Southern Colorado, where he started riding colts for hire at age 11. After college graduation, Tom traveled across the country working the cattle industry, from top to bottom, in 11 different states. In addition, his insatiable love of horses led him to showing Versatility Ranch Horses and working with young people in the 4-H program. Tom, who now lives in Loma, Colorado, has performed in cowboy poetry gatherings across the western United States and, in 2020, Arizona Cowboy Connection published his book, Hoof Tracks.
paradea:
Love this poem!!!
Posted 01/22/2023 11:19 PM
Lori Levy:
Another good cowboy poem!
Posted 01/22/2023 09:25 PM
joecot:
This has been a great week. Thanks Jayne, and thanks Darrell. In our town's monthly literary gathering we always include cowboy poetry. (La Honda, California)
Posted 01/22/2023 12:30 PM
cork:
Gaits of the mind!
Posted 01/22/2023 10:47 AM
Joan Luther:
What a wonderful cowboy travel through your eyes!
Posted 01/22/2023 09:42 AM
pwax:
I was grabbed by that perfect first line. And I agree totally with Darrell.
Posted 01/22/2023 09:02 AM
Wilda Morris:
Another winning poem!
Posted 01/22/2023 08:43 AM
Darrell Arnold:
Awesome poem, Tom. Meter and rhyme to perfection. Obviously honed skills. Obviously edited and edited and edited again, finding the right word for the right place. The "tracks between the then and now" are the tracks all cowboys thrive on making. It's a lifestyle like no other, and they'd never trade a day of it for anything else. Larry's right. It is difficult for a cowboy to write a four-stanza poem. There is so much more to tell.
Posted 01/22/2023 08:19 AM
Larry Schug:
The four line stanza at the end, so haunting, could be a poem on its own, but what cowboy poet could ever stop at four lines with so many stories to tell.
Posted 01/22/2023 08:03 AM