Sometimes you just sit there alone
on a bench in the park feeling sorry
for yourself like the bereaved one at a funeraló
a Titanic sunk in an ocean of funk.

Then, go figure, assorted doggies,
tugging at their masterís leashes,
come by to pummel you with their tails
and lick you rudely back to life.

When God runs out of angels,
He sends dogsó heavenís pinch hitters.
These creatures alone have grasped
what it means to be a human.


© by Richard Schiffman.
Used here with the authorís permission.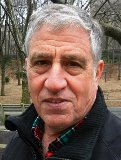 Richard Schiffman splits his time between New York City and the Sangre de Christo Mountains of New Mexico. A poet, environmental reporter, and author of two biographies based in New York City, his poems have been featured on NPR and the BBC and have appeared in a wide variety of print publications. Richard's poetry collection, What the Dust Doesn't Know, was published in 2017 by Salmon Poetry.
Lori Levy:
Im not a dog lover, but I do like this poem.
Posted 01/23/2023 04:50 PM
DavidTookey:
"...to pummel you with their tails and lick you rudely back to life." Perfect!!!!
Posted 01/23/2023 10:40 AM
NormaB:
I love heavens pinch hitters!
Posted 01/23/2023 08:57 AM
paradea:
A poem so relatable and exactly true!! I love it!!
Posted 01/23/2023 08:51 AM
Darrell Arnold:
Dog remind us of how unworthy we are to have them. The love us, unconditionally, regardless of our many flaws, regardless, even of how we sometimes neglect or mistreat them. Dogs are awesome. Dogs make our lives better, and nobody appreciates or loves them more than cowboys.
Posted 01/23/2023 08:37 AM
Sharon Waller Knutson:
I love this delightful doggy poem. Favorite image: a Titanic sunk in an ocean of funk
Posted 01/23/2023 08:11 AM
mail@schoolbusmart.com:
When Good runs out of angels, He sends dogs... Wonderful! Randy Mazie
Posted 01/23/2023 07:23 AM
Joan Luther:
Saw this somewhere and it relates well here: dog is God spelled backwards.
Posted 01/23/2023 06:54 AM