What does he see from the jetty
he has loved since he was small?
Jumping from rock to rock
even when called back,
us fearing he would lose footing
and be carried off by the high tide
fast encroaching.

Even now
when a storm is gathering force,
the sky darkening ominously
with layers of foreboding clouds,
he walks out to the end and sits
in a rock-formed seat he said
was made just for him and waits
until the frothy tips of the white caps
splash his face, and he throws back
his tousled head, laughing!

From the shore
we cannot tell what he sees,
pointing.

He turns toward us with arms
waving up, as in Hallelujah,
seeming to implore us to see
what we still cannot.

"Look! Look!" he shouts
over the din of the crashing waves.

And we do
and see what was right in front of us
all the time:

the wonder of it all.

© by Carol Amato.
Used here with the author's permission.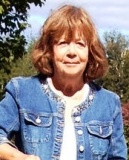 Carol Amato says poetry has allowed her to assume many lives—to date, a much-longed-for job as a waitress, a slightly mean-spirited child, an escape artist seeking to find herself, an adventurer soaring with raptors, and more. Carol's realities include being a language-learning specialist, a natural science educator, and the author of 11 books for Barron's Educational Series and Backyard Pets, Nature Activities Close to Home, published by John Wiley & Sons. Carol, who lives in Boston and Cape Cod, considers herself fortunate to have both an active imagination and enough reality to survive.
Anastasia:
My back yard needs so much attention, but it's still a lovely (and compact) wilderness which brings me joy each day with its profusion of plants and a variety of avian and squirrel visitors.
Posted 03/02/2023 09:35 PM
TheSilverOne:
This is a beautiful poem...I can see it all!
Posted 01/25/2023 07:55 PM
jentsch:
Wonderful thoughts and words!
Posted 01/25/2023 06:42 PM
Lori Levy:
Great poem about appreciating whats in front of us.
Posted 01/25/2023 04:52 PM
Larry Schug:
The lesson I draw from this poem is to try to see with the eyes of a child.
Posted 01/25/2023 11:50 AM
paradea:
There for the looking, wherever you are, there is wonder in Creation! Hallelujah! What a beautiful poem.
Posted 01/25/2023 11:10 AM
Wilda Morris:
A beautiful poem to start the day - as I look out on a snowy wonderland.
Posted 01/25/2023 10:03 AM
Tracers645:
Wonderful poem!
Posted 01/25/2023 09:42 AM
Darrell Arnold:
It has been a great blessing for me to have spent most of my life in the great American West, and mostly in rural areas. On countless mornings, I've awakened to see majestic mountains, beautiful skies, broad rural vistas, and the sights and sounds of nature. I understand this poem to the depths of my soul.
Posted 01/25/2023 08:28 AM
Angela Hoffman:
Carol, thank you for this beautiful reminder to see what is right in front of us!
Posted 01/25/2023 08:23 AM