I come from Down Under
where the sun shines all day,
where the kookaburras laugh
and the kangaroos play;
where the sun burns sharply,
where the rivers are few,
where the night sky is sparkling,
where the ocean is blue.

The great land down under
is barren and dry,
it's the colours of the rainbow,
and trees reach to the sky;
it's a never-ending wilderness,
it is cities so grand;
it's "owyagoin mate"
and a warm shake of the hand.

This is Australia
the land I hold dear;
there's freedom and happiness,
there's no favour nor fear.
It's a land of adventure,
excitement and calm,
of all one can wish for –
a nation of charm.


© by Gordon d'Venables.
Used here with the author's permission.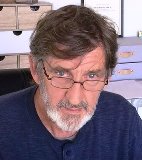 Gordon d'Venables was born in, grew up in, and still lives in, Australia. A lawyer, he has also worked as a farmhand, a soldier, a teacher, a businessman, and has even dabbled in politics. Widely travelled, Gordon's diverse work experiences, the places he's seen, and the people he's met all contribute to his writing.
Anastasia:
I've been fortunate to visit Australia twice, and had a great time both visitsfriendly people, good food, lovely scenery, and interesting museums!
Posted 02/25/2023 12:52 AM
tiddles:
Love the poem and your country. MZWindau
Posted 01/26/2023 04:02 PM
Lori Levy:
Like the variety and contrast of the details used to portray Australia.
Posted 01/26/2023 12:41 PM
Cathy's Sister:
This poem reminded me of how I always wanted to visit Australia!
Posted 01/26/2023 10:04 AM
paradea:
Love this!!!
Posted 01/26/2023 09:59 AM
cork:
The ASL sign for today is Australia.
Posted 01/26/2023 09:35 AM
Wilda Morris:
I'd read any poem with the words "kookaburras" and "kangaroos." I love the sounds of those words and the pictures they put in my mind. And it brings back memories of singing "Kookaburra sits in the old gum tree...." in school.
Posted 01/26/2023 09:34 AM
Darrell Arnold:
Good onyamate! Shades of Ogelvie and Patterson.
Posted 01/26/2023 08:18 AM
Larry Schug:
It is wonderful to think there may be a place so idyllic as described here. This poem describes a world we all strive for..A poets vision is a beginning.
Posted 01/26/2023 07:44 AM