When it's close to time to leave, I offer to read it again. I've
just fed my wife a chocolate; she's surprisingly enthusiastic.
She perks up at the Lord is my shepherd; I shall not want.
She loves to hear about lying down in green pastures,
and being led beside the still waters.

The familiarity of having her soul restored and being led
in the paths of righteousness brings a smile to her thin lips.
She looks resigned during the trying trip through the valley
of the shadow of death, where she fears no evil as the rod
and staff comfort her. She is in another world.

I modify where a table is prepared for her—I skip the part about
enemies because I can't imagine her having any. She seems to love
that a table is prepared for her and that her cup runneth over.
As I finish, telling her that goodness and mercy shall follow
her all the days of her life, she seems completely relaxed.

I motion to the aide that it's time to roll her into the dining room.
The woman says my wife gets fussy after lunch, that I should feed
her a few less chocolates, and I quickly concur. As the aide rolls her
into the residents-only dining room, she is smiling as I leave.
With help from King David and King James, I've left her refreshed.


© by Kevin Arnold.
Used with the author's permission.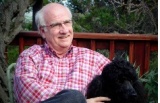 Kevin Arnold holds an MFA in Creative Writing from San Jose State University. He enjoys skiing, playing competitive tennis, and duplicate bridge, and his newest collection of poetry,
Do Not Think Badly of Me
, is forthcoming from Manzanita Writers Press. Kevin was named "Writer of the Year" by the California Writer's Club. Learn more about him at
www.kevinarnoldauthor.com
.
cork:
We should all ease into death this way.
Posted 02/12/2023 06:14 PM
ghctenmile@earthlink.net:
This poem is compassionate, loving, clever, and o so truthful--thanks for it
Posted 02/11/2023 09:46 PM
Anastasia:
Kind and loving and sweet. This moved me to tears.
Posted 02/11/2023 03:05 PM
CynthiaB:
Oh, the chocolates... Such a poignant story of mature love. Thank you!
Posted 02/11/2023 02:29 PM
carlpalmer:
making the familiar flow in your story
Posted 02/11/2023 01:13 PM
kareneegan:
Loving, compassionate words about a beloved person. Thank you for sending. May I wish that I have such a soul like this by my side.
Posted 02/11/2023 12:48 PM
Angela Hoffman:
such a tender poem
Posted 02/11/2023 12:39 PM
Lori Levy:
Beautiful, touching.
Posted 02/11/2023 11:51 AM
jentsch:
An incredible poem!
Posted 02/11/2023 11:45 AM
RonPoems:
A love poem through and through. It passes the I wish I write that test.
Posted 02/11/2023 11:04 AM
Leslie Hodge:
Wonderful and touching.
Posted 02/11/2023 10:41 AM
Sharon Waller Knutson:
What a moving powerful love poem. I loved the twist at the end. The last stanza made me cry as Kevin showed us the meaning of true love Favorite line: With help from King David and King James, Ive left her refreshed.
Posted 02/11/2023 10:30 AM
bobbi43sml@aol.com:
This is beyond beautiful and I 100%agree with Larry that this medicine is totally reciprocal. Have to say , the "modifying" and "skipping" parts is what brought me to tears. No greater LOVE .... than knowing the other heart this well.
Posted 02/11/2023 10:07 AM
VNesdoly:
What a lovely, lovely poem. Thank you Kevin, and King David!
Posted 02/11/2023 08:48 AM
Larry Schug:
Poetry is medicine and comfort for both the writer and the recipient of the words.
Posted 02/11/2023 08:02 AM