Seniors online searching,
yearning to ban loneliness,
in need of a fresh glow.
So many questions:
Are you kind, sincere,  
practical, intelligent?
Do you like long walks,
sunset at the beach
playing with grandchildren,
the theater, museums,
sports, reading,
talking, traveling, texting?
Characteristics that
all pale before
the one big inquiry,
the defining quality
which will set me free:
Do you still drive at night?


© by Jane H. Fitzgerald.
Used with the author's permission.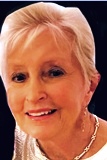 Jane H. Fitzgerald lives in Jupiter, Florida. A retired middle school history teacher, she's a big believer in experiential learning and once developed a hands-on, role-playing curriculum for the American Colonial period. Jane loves interacting with children but has also taught English to adult Hispanic immigrants. The author of four books of poetry, her work has been featured in numerous journals.
TheSilverOne:
Fun! I'm an old lady who still dares the darkness. Over 75 is all I'll admit to.
Posted 02/12/2023 04:57 PM
CynthiaB:
Brought a smile... My husband and I met online in 2020, at ages 64 and 66. We both still drive at night, but more slowly. :-)
Posted 02/11/2023 03:35 PM
KevinArnold:
What wry fun!
Posted 02/11/2023 11:27 AM
Anastasia:
I am very popular with my friendsbeing the youngest (at 60), I can still drive at night!
Posted 02/10/2023 04:16 PM
Lori Levy:
Great ending!
Posted 02/10/2023 02:18 PM
paradea:
Yep!!!
Posted 02/10/2023 11:04 AM
Tom Sharpe:
I read this on a poster: my mind thinks Im 25, my body thinks Im an idiot.
Posted 02/10/2023 10:13 AM
cork:
Where is the light switch?
Posted 02/10/2023 09:58 AM
PmReid:
Too funny, and too true!
Posted 02/10/2023 09:42 AM
Wilda Morris:
Good surprise ending!
Posted 02/10/2023 09:15 AM
Darrell Arnold:
Jane Fitzgerald, you made me laugh out loud. Driving at night has become a big issue. It seriously limits what one is willing to do, like go to a movie or even to a late-in-the-day dinner. Driving back home in the dark can be dangerous. Oh the joys of senior living! You have to be there to know what it's all about.
Posted 02/10/2023 08:44 AM