We've saved all this junk
because we might want it later.

You say:
At our age there is no later.
And so we begin.

At our age, love
needs no storage.


This poem first appeared in the Monterey Poetry Review.
Used here with permission.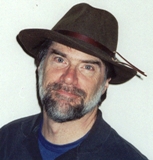 Joe Cottonwood is a semi-retired contractor with a lifetime of small jobs repairing homes. He lives with his high school sweetheart under redwoods in the Santa Cruz Mountains of California, caring for curly-haired dogs and straight-haired grandchildren. Joe's latest book is Random Saints. Learn more about him at www.joecottonwood.com.
Anastasia:
I began a serious clearing out a few years ago. It's time-consuming, but I always feel good when I send boxes off to donations!
Posted 02/20/2023 02:22 PM
Wilda Morris:
Ah, yes! I'm trying to downsize. You said it beautifully. The love is what is important, not all this stuff we accumulated. Well-done.
Posted 02/14/2023 09:57 AM
Lori Levy:
Short and beautiful.
Posted 02/13/2023 02:38 PM
KinVT:
Wow. So much in so few words. & spot on!
Posted 02/13/2023 11:10 AM
Sharon Waller Knutson:
Loved this wise, sparse poem. Favorite line: At our age, love needs no storage.
Posted 02/13/2023 10:34 AM
cork:
Love is now!
Posted 02/13/2023 09:27 AM
Carol Clearwater:
So do I, so do I!
Posted 02/13/2023 08:11 AM
mail@schoolbusmart.com:
I like it.
Posted 02/13/2023 07:36 AM