When I was a kid
Dad towed our Nimrod camper trailer
to Montana, California, Arizona.
We slept in pull-out drawers
under the pop-up tent.
Mom cooked meals on a Coleman stove,
washed dishes in water hauled from a pump.

In Nogales
a cousin took us
over the border to Mexico.
We bought Chiclets
from brown-skinned kids,
shopped stalls.
My brother had to have
a leather bull whip.
I set my heart
on a bright pink piñata,
pouted until I got it,
returned to the States
with my treasure.

Packing up to go home,
the stubborn donkey
wouldn't fit in the car.
Dad drove to the post office,
paid ten times what it was worth
to ship the stiff thing home.

When we got back
it was there,
a large cardboard box
filled with love.


From Son of Norway (Poetry Harbor, 2023).
Used here with permission.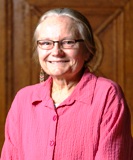 Jan Chronister is a retired English and Creative Writing teacher who now spends her time on her own writing. She also helps fellow poet friends publish their work. Jan spends all the time she can in her flower gardens, which often find their way into her poems. She has published two full-length poetry collections and six chapbooks and is working on a few more; her newest is Son of Norway. Winner of the Wisconsin Library Association's 2020 Outstanding Poetry Book award for Distanced: Poems from the Pandemic, Jan lives in rural Maple, Wisconsin with her husband Bob.
Anastasia:
What a grand adventure, and a happy ending!
Posted 02/20/2023 02:21 PM
DavidTookey:
Perfect ending!
Posted 02/14/2023 12:56 PM
Lori Levy:
Beautiful memory.
Posted 02/14/2023 12:20 PM
CamilleBalla:
Thank you for sharing this very sweet memory of not only what we do for love but the joy and love felt in receiving this big box of love.
Posted 02/14/2023 12:20 PM
Wilda Morris:
Wonderful memory. "Filled with love," indeed. I have purchased Chicklets from Mexican children many times, so you brought back memories of my Mexican excursions, too.
Posted 02/14/2023 09:56 AM
cork:
I love this travel adventure.!
Posted 02/14/2023 09:37 AM
mail@schoolbusmart.com:
I bought Chiclets from those same kids, plus a bag off live beetles. Thanks for the memory. Randy Mazie
Posted 02/14/2023 09:11 AM
PmReid:
What treasured memories. Lovely poetry.
Posted 02/14/2023 08:34 AM
Angela Hoffman:
A lovely memory and testimony to a parent's love.
Posted 02/14/2023 08:10 AM
KinVT:
Beautiful image of the things we do for love that definitely do matter. Thank you for that smile to start my day.
Posted 02/14/2023 07:10 AM