With only a slim window of sunshine
forecast, I came to my grandsonís party
dressed in a rain slicker, carrying an umbrella.
†
The children threw off their jackets
moments after they arrived
to climb monkey bars and slides,
ride scooters, dig with sticks.
†
For two hours, not one child in the park
glanced at the darkening sky.
†
I put down my umbrella
and tossed my coat, too.
†
And at four oíclock, when the clouds
released their burden in fat wet drops,
just as we were loading presents
and leftover cake into the car,
my gratitude gushed
with the drenching rain
for two small hours of sunshine
in this otherwise stormy world.


© by Jacqueline Jules.
Used here with the authorís permission.
†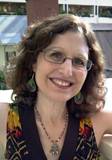 Jacqueline Jules is a former librarian who found herself intrigued by almost every book she put on the shelf. As a reader and as a writer, she doesn't restrict herself to one genre. She is the author of 50 books for young readers on a wide variety of topics, including a poetry book for young readers on the joy of activity called Tag Your Dreams: Poems of Play and Persistence (Albert Whitman, 2020). Jacqueline is also the author of four poetry books for adults, including a collection of biblically inspired poems, Manna in the Morning (Kelsay Books, 2021). After 26 years in Virginia, Jacqueline has moved to Long Island to be closer to her grandchildren. Learn more about her at www.jacquelinejules.com.



Anastasia:
This is sweet and wonderful! Thank you!
Posted 02/19/2023 09:30 PM
Lori Levy:
Beautiful. Love the ending.
Posted 02/17/2023 02:00 PM
paradea:
Good one!!
Posted 02/17/2023 10:18 AM
Wilda Morris:
"my gratitude gushed" - we'd all be happier if we lived that way! Thank you for a fun poem with a profound message.
Posted 02/17/2023 10:05 AM
cork:
I remember the joy of monkey bars.
Posted 02/17/2023 09:23 AM
Larry Schug:
Life's all about Light. Gushing gratitude sparks poetry. Love for great and small, simply expressed.
Posted 02/17/2023 07:53 AM