This bleak winter day ground hard
as stone    a peeling birdhouse
tethered to a Crepe Myrtle branch
is alive with fledging chicks
one peeking through the hole
if we only       stare       long       enough


© by Peter Venable.
Used here with the author's permission.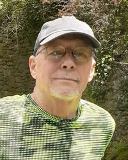 Peter Venable lives in Winston-Salem, North Carolina. A retired addiction clinician, he has been composing poetry for more than 50 years--free and metric, sacred and secular, normal and whimsical. He is the author of one poetry collection, his work has appeared in a number of journals, and he is an active member of the Winston-Salem Writers. When he's not busy helping to take care of his two granddaughters, Peter volunteers at a local prison camp, wins the occasional NC Piedmont Senior Games track and field events, and has been known to sing in local productions of the annual Messiah performance. Learn more about him at petervenable.com.
Anastasia:
It's the little things that bring so much hope!
Posted 02/20/2023 01:33 AM
Wilda Morris:
Yes - we have to keep looking!
Posted 02/17/2023 10:06 AM
Lori Levy:
Great image of the peeling birdhouse on the Crepe Myrtle branch.
Posted 02/16/2023 12:11 PM