Gray whale encounter in San Ignacio Bay, Baja California, MX


I watched them breach, spy-hop*,
gracefully arch their glistening bodies
as they sidled beside,
then playfully pushed our panga**
and rubbed their backs against its bow.
I stroked their rubbery skin,
looked into blow holes,
mouths full of baleen***,
and was sprayed by spouts,
but nothing compares to the moment,
when gazing into a huge gentle eye,
              I entered a portal
                                of primal connection.

© by Joan Kantor.
Used here with the author's permission.

 
*  Spy-hopping behavior consists of the cetacean holding itself vertically in the water and kicking with its tail fluke
   in order to hold its head above the water line while checking out its surroundings.

**  A panga is a small fishing boat with a raised bow.

*** Baleen is a filter-feeding system inside the mouths of baleen whales. To use baleen, the whale first opens its mouth underwater to take in water.
    The whale then pushes the water out, and animals such as krill are filtered by the baleen and remain as a food source for the whale.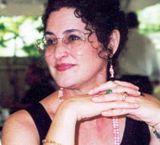 Joan Kantor lives with her husband in Collinsville, Connecticut. A college counselor and learning disabilities specialist for many years, Joan also has training in education and marriage and family therapy. Active in a number of poetry outreach efforts, she is a member of the International Academy for Poetry Therapy and collaborates with both visual artists and musicians in Stringing Words Together, an interactive program of poetry and violin music. Her most recent book is Filling in the Black: One Woman's Journey of Re-education (WovenWord Press).
Anastasia:
Whales are amazing, magical creatures, and you have captured this moment so well!
Posted 02/19/2023 09:29 PM
USAngel58:
Love this poem! Gazing into the huge gentle eye - this touches my soul! We are all connected.
Posted 02/19/2023 02:05 PM
Lori Levy:
Great portrayal of the whale and beautiful ending.
Posted 02/19/2023 01:22 PM
cork:
I first met the panga on a river in Nicaragua.
Posted 02/19/2023 10:05 AM
Larry Schug:
A certain spirituality comes through in these words, a basic connection between all forms of life that humans seem hell-bent on severing to our loss.This poem says so much more than it's words can express. Good work, Ms. Kantor
Posted 02/19/2023 08:41 AM
Darrell Arnold:
A Bucket-list experience for sure. Count yourself blessed. Nicely told.
Posted 02/19/2023 08:25 AM