Shiny red rubber boots,
buckles on the side,
cut little kid tracks in the virgin snow.
I trudge through the backyard
on my quest for perfect sticks,

four matching lengths
to secure with worn roller skate straps
to my winter footwear,
two long pieces of timber in hand
steady me in my rustic equipment.

Out to the side I thrust my feet,
each one accommodating †
two cumbersome tree branches,
and carefully waddle to the peak
of the snowbank at the top of the drive.

No cars coming up the street,
no brothers to make fun of my brilliance,
red cheeked and hopeful,
I stand poised,
waiting for the skiing to begin.


© by Elaine Sorrentino.
Used here with the authorís permission.
†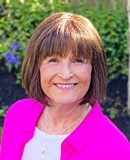 Elaine Sorrentino is a Communications Director by day, but a poet by night--finding inspiration in everyday things such as goats, cows, and Shetland ponies that wander into her yard. She says she is often most inspired at the least opportune moments: putting on makeup, driving to work, preparing for a dinner party, etc.† Elaine, who lives next to a farm in Pembroke, Massachusetts, tries to keep a notebook handy at all times, but has been known to text herself a line or two in the middle of the night.
†
†
Tamela:
Delightful! A reminiscence of childhood to warm our souls - & Larry Shugs spot on analysis!
Posted 02/20/2023 03:44 PM
Tamaraeve:
Wonderful! I tried the same thing, only instead of winter footwear and a snowbank, I had sneakers and a sand dune.
Posted 02/20/2023 02:21 PM
Anastasia:
Making your own fun is delightful!
Posted 02/20/2023 02:20 PM
Lori Levy:
Love this picture of childhood.
Posted 02/20/2023 12:52 PM
KevinArnold:
How fun. Its particularly poignant for me as I say goodbye to a lifetime pleasure.
Posted 02/20/2023 12:45 PM
Sharon Waller Knutson:
What a warm, sweet cute poem about desire, determination and creativity. I can see a little girl trudging through the snow in shiny red rubber boots, buckles on the side, roller skate straps, two long pieces of timber and tree branches, poised to ski down the driveway.
Posted 02/20/2023 11:09 AM
NormaB:
You and I wouldve been friends as kids!
Posted 02/20/2023 10:59 AM
Larry Schug:
Back to the basics--an inventor emerges. How does anything get invented? We're ready for the trial without thought of error; similar to the first draft of a poem.
Posted 02/20/2023 07:39 AM
Dan:
I am a really old skier. Your poem made me cry. I hope you eventually got some skis equipment and learned of the exhilaration of skiing.
Posted 02/20/2023 05:29 AM