Iím circling the wagons tonight,
declaring a truce in the ongoing war
of me against myself.

Save those potshots for tomorrow;
Iíll still be fat and flabby,
sometimes clumsy, often running late,
still too slow with the perfect rejoinder,
frequently anxious about almost anything,
still waste time, money,
still owe apologies,
and still eat ice cream till Iím more than full.

Itís just a temporary reprieve.
Those barbs and more can all be flung tomorrow.

Letís have a moratorium tonight.
The winds over the ocean have calmed down
after a very blustery day,
and a waxing crescent waltzes across the sky,
reflection sparkling on the waves below.
We ate salmon by candlelight
and laughed as we did the dishes.
The second camellia blossom of the season
is floating in a bowl of water,
grandchildren smiled on a video call,
and friends chitter-chattered on texts.
My Beloved is here beside me.
I sit with myself-as-I-am,
complete, knowing nothing needs to change,
feeling sweet contentment
and the arising of joy.


Originally published by Vita Brevis Press in the anthology, What Is All This Sweet Work? (September, 2022).
Used here with permission.
†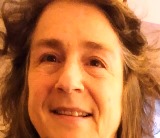 Cynthia Bernard is a woman in her late 60s who is finding her voice as a poet after many decades of silence. A long-time classroom teacher and a spiritual mentor, she lives and writes on a hill overlooking the ocean, about 20 miles south of San Francisco.
†
†
Tracers645:
I love this poem. It is one I want to read each day to remind myself to give me a break. I think the last sentence is my favorite. I can't wait to read more of Ms. Bernard's poetry!
Posted 02/28/2023 10:40 AM
d ellis phelps:
Camellia blossom in a bowl 💚
Posted 02/27/2023 02:20 PM
Catherine H:
Hi Cynthia, Poets such as yourself have an amazing gift of capturing the truth of feeling and understanding in such a lovely way. Thank you for this poem.
Posted 02/26/2023 11:39 PM
CynthiaB:
Thank you, everyone!
Posted 02/26/2023 09:57 PM
Janice Galt:
I loved this. The ideas, feelings, being in the moment of life! Thanks!
Posted 02/26/2023 08:57 PM
Kelly Scott:
Cynthia, you have found one of the greatest secrets of peace and contentment in life. It is called "Simplicity". Your poem is very much appreciated. Thank you for sharing with all of us.
Posted 02/26/2023 08:43 PM
JaneBeverley :
What a lovely sentiment to close the day with.
Posted 02/26/2023 08:03 PM
Anastasia:
Our kindness must extend to our own selves, not just others. Thank you for a description of such a wonderful day!
Posted 02/26/2023 02:59 PM
Lori Levy:
Love the contrast between the potshots in the beginning and what follows in the moratorium from the potshots.
Posted 02/26/2023 01:47 PM
KinVT:
So, so beautifulI hope you put away the potshots forever. As you are an extraordinary poet, & gave me much peaceful joy with your words. Thank you.
Posted 02/26/2023 11:13 AM
KevinArnold:
Ah, self-forgiveness found.
Posted 02/26/2023 09:17 AM
vortex:
Beautiful! Thank You!
Posted 02/26/2023 09:12 AM
Angela Hoffman:
Thank you Cynthia for this reminder!
Posted 02/26/2023 08:51 AM
Larry Schug:
Yes, we need to be our own best friends and to treat ourselves as such.
Posted 02/26/2023 08:19 AM
mail@schoolbusmart.com:
nothing does need to change, the winds have calmed down, the salmon is delicious, and all the rest that follows is all that matters--overeating ice cream be damnned, Randy Mazie
Posted 02/26/2023 07:25 AM