Mama in a beehive,
hose and pumps,
my sister and I
in dandelion gone
to seed frizzes
and bare feet,
stand on the green
grass in our identical
mother-daughter
dresses Mama orders
from the JC Penney
catalogue with the money
she earns taking in washing.
 
In sky-blue rayon with red
cherry pattern, square neck,
skirt flaring past our knees,
we all smile at Daddy
in the summer sunlight
as he snaps the shutter
in the Kodak camera
in the nineteen fifties.
 
Now senior citizens,
my sister and I stare
at the photo in the album,
still tasting Mama's supper –
the creamed peas, potatoes,
and strawberries we pick
in the garden and the sirloin
from Mike's Meat Market.


© by Sharon Waller Knutson.
Used with the author's permission.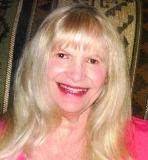 Sharon Waller Knutson lives in a house her husband, Albert, built out of clay from the land on a dirt road in the middle of a wildlife habitat and open range of the Arizona desert. A retired journalist, she writes poetry for readers who don't normally read poetry. In 2014, Sharon sold her chapbook, My Grandmother Smokes Chesterfields, to winter visitors from all over the world in a café where her husband played guitar and sang country music. Her customers told her they expected her to publish a new poetry book when they returned each year so, in 2015, she published Desert Directions, about her life in the desert. In 2016, she published They Affectionately Call Her a Dinosaur, poems about her customers and other seniors in her life who started new careers, businesses, and relationships after they retired. In 2017, she published I Did it Anyway, poems about how she broke the glass ceiling in the newspaper business in the '60s and '70s, when women were typically relegated to the society pages. Six other books followed.Sharon's newest is The Leading Ladies in My Life, and she recently launch a new blog. Sharon and Albert (now retired from his music gig) stay busy raising assorted critters and enjoying their 11 grandchildren and 6 great-grandchildren..Learn more about her here.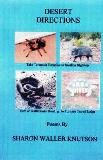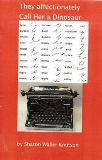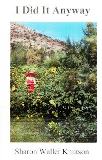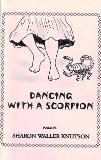 Janet Wilcox:
Great new insights of life that create wonderful images....and memories.
Posted 02/28/2023 07:41 PM
Anastasia:
This is terrific! I have a photo like this: my mom looking like Jackie Kennedy in a fancy velvet dress, my brothers in little suits from Sears, me in a puffy dress with white lace tights and black patent leather shoestaken at our farm house in the country, so you can see Mom's shotgun on its wall plaque in the background!
Posted 02/28/2023 02:13 PM
joecot:
Sharon's poems will be like snapshots to future generations.
Posted 02/27/2023 04:38 PM
KevinArnold:
Im glad you left in the word earns; significant.
Posted 02/27/2023 01:55 PM
Lori Levy:
I can see this scene clearly. Great poem!
Posted 02/27/2023 01:38 PM
paradea:
Love it!!
Posted 02/27/2023 11:38 AM
peninsulapoet:
Another fine poem.
Posted 02/27/2023 10:39 AM
Shoshauna Shy:
I can taste those creamed peas and smell that meat market, Sharon!
Posted 02/27/2023 10:37 AM
Darrell Arnold:
The photos I have of my siblings and me as children are mostly in black and white and also from the '50s. I now enjoy digging them out and e-mailing or FBing them around to friends and family. I had a charmed, rural upbringing and fantastic parents. It was the golden age in America.
Posted 02/27/2023 09:04 AM
peggy.turnbull:
I feel that I am seeing the photo as well as reading the poem, Sharon's imagery is so sharp.This line brought me back to my own childhood days with kids on the block:"in dandelion gone / to seed frizzes"
Posted 02/27/2023 08:36 AM
Angela Hoffman:
The memories so relatable! You took me right there with you. This poem brought a smile to my face.
Posted 02/27/2023 08:12 AM