Previous

Hooray, Hooray, itís Market Day
by
Judy Shimek Drechsler


Next
Peaked white roofs point towards the rising sun.
Market day in Port Townsend! I walk up the street,
basket swinging from my hand.
The buzz of small town conversations reach me first,
the music of guitar and keyboard bounces into my ears.
Vendor carts filled with beauty from local organic farms
line both sides of the street, march down the middle.
A riotous disarray, smells of baking bread, grilled salmon,
bratwurst. A delicate lust makes me buy more than I can possibly eat.
Cheeses, tasty award winners, sit on crispy crackers.
Purple lilacs, red and yellow dahlias, frilled pink tulips,
soy candles with appealing names, Eggplant, Heirloom
Tomato, Cinderella Pumpkin, Lemon Basil, all
eager to light the way to my evening dinner table.
Golden, deep green, and brilliant orange squash of all
shapes spill out from baskets and boxes.
Beans abound, purple, yellow, white, and green lie in untidy heaps,
flanked by crisp green and white striped zucchini and juicy
tomatoes in an array of yellows and reds.
In my mind I see them sitting on my kitchen counter,
as much at home in the stillness of my kitchen as at the busy market.
My dinner plate waits patiently for their goodness.


This poem first appeared in Wording the Land Poetry Collection 2019 (Jefferson County Farmers Markets).
Used here with permission.
†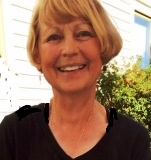 Judy Shimek Drechsler has lived in an 1867 renovated Victorian house in Port Townsend, Washington ("a charming Victorian Seaport Village, " she calls it) for the past 20 years, with her dog Emma. She stays busy tutoring foster children, singing, playing bridge, working out, and keeping up with a vigorous yoga practice. Most of Judy's teaching career was spent in Anchorage, Alaska, where she taught literacy courses for the University of Alaska-Anchorage and was a full time primary teacher in the Anchorage School District. Judy says poetry speaks most clearly to her when writing about her family and when major life changes hit—"as they are wont to do as you get older," she adds. Judy published her first book, Falling into One, in 2017.
Lori Levy:
Very sensual. Love all the colors!
Posted 03/06/2023 05:20 PM
Anastasia:
This is very much my experience as well! I usually walk the market up one side and back down the other before starting to browseotherwise, I'd spend all my money at the first booth! I've finally learned not to over-buyit's all so tempting, though, it's hard to resist!
Posted 03/06/2023 12:51 PM
Wilda Morris:
You brought me into the market - I could hear the chatter, see the colors, smell the food. Where did you say I could find the vendor with the grilled salmon? I want some.
Posted 03/06/2023 10:35 AM
KevinArnold:
My goodness, delicate lust? A delicate lust makes me buy more than I can possibly eat. Fun work.
Posted 03/06/2023 10:12 AM
cork:
The buzz...reaches....and my basket fills fast.
Posted 03/06/2023 09:17 AM
Larry Schug:
A poem that engages all the senses and takes me away from another snow storm and puts me in a pleasant little town where the sun is shining and music playing. It's like a mini vacation. Thanks for the ticket to Port Townsend where I know two people quite well.
Posted 03/06/2023 07:29 AM
mail@schoolbusmart.com:
So, what day is market day? Im already there after reading your poem, being bathed in color, tongue tasting everything, lusting along with you, looking forward to next week and doing this all over again, except sad to part with all the foods that I might have bought last week that I was unable to eat because I bought too much as you did, and now they have turned. But what joy to look forward to the next market day, when I shall start again along with you. Well done.
Posted 03/06/2023 06:13 AM
Contents of this web site and all original text and images therein are copyright © by Your Daily Poem. All rights reserved.
As an Amazon Associate I earn from qualifying purchases. Purchasing books through any poet's Amazon links helps to support Your Daily Poem.
The material on this site may not be copied, reproduced, downloaded, distributed, transmitted, stored, altered, adapted,
or otherwise used in any way without the express written permission of the owner.