Pale sun touches fairy trees and frosted woods
That now must wait for springís sprite to return and
Once again awaken each paralyzed bit of new life.
†
A sudden wind-flurry makes glazed branches
Plink and chime where puny buds cling,
Terrified, their eyes closed tight.
†
The creek runs a bit faster, tries to break winterís hold.
Mud-encrusted snow, once again covered in pristine white.†† †
Ice mounds continue their slow retreat to rocks and banks.
†
A few bewildered blades of new grass
Poke through this wet cover, unsure
Of such a cold white-rain world.
†
Östill there is a softness in the morning air...

†
From†Celebrating the Heart-land†(Jericho Productions, 2009).
Used with the authorís permission.
†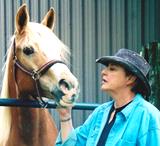 Linda Lee Konichek is a textbook author, entrepreneur, and former teacher who has always loved poetry, horses, and Wisconsin--not necessarily in that order. For more than 30 years, she has raised Morab horses (a cross between Morgans and Arabians) on a 114-acre farm in Eagle, Wisconsin; her poems tend to reflect the every day miracles that surround her there. Learn more about Linda at†www.jerichocreekfarms.net.
†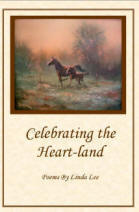 †
Wilda Morris:
Love it!
Posted 03/14/2023 09:11 AM
Janet A. Leahy:
Linda, so good to read your work again, love the "bewildered blades of grass." Hope to see you at the Wi Fellowship of Poets Conference.
Posted 03/13/2023 04:55 PM
michael escoubas:
Nicely done, Linda; I especially "Plink and chime."
Posted 03/13/2023 04:26 PM
Lori Levy:
Great lines and portrayal of March.
Posted 03/13/2023 02:41 PM
Tracers645:
Wow! She nailed it...that's March. Great poem!!!
Posted 03/13/2023 12:06 PM
paradea:
What a 'way with words'! So many great lines! Love this poem!
Posted 03/13/2023 11:40 AM
HazelGrammie:
Love this.
Posted 03/13/2023 09:12 AM
cork:
Personification.
Posted 03/13/2023 08:58 AM
Larry Schug:
Thanks for a peek at Spring---a little visualization of what lies beneath all this snow. " puny buds cling,Terrified, their eyes closed tight."--my favorite line. Also, I very much like your book cover.
Posted 03/13/2023 07:44 AM