Written when the clock was set ahead one hour on April 1, 1918.


Our Rooster wakes at half-past five
And crows with all his might.
He tries to wake the people up
Before the day is light.
When Daddy hears the rooster crow
He knows he should awake
And light the kitchen fire, so Ma
Can cook the Johnny cake.

Now, maybe we can fool my Dad
That it's half-past five when it's half-past four,
And maybe the system's the best we have had
To fool some thousands of people or more;
But how can we fool that rooster?

I have always thought our rooster had
A clock inside of his head,
And I don't know how we can fix it so
We can set the clock ahead.
I asked my dad, and he said to me,
"Why, son, you surely know
A rooster's instinct wakens him
And tells him when to crow."

Now the hands of the clock we can turn ahead,
We can fool the people and feel content;
But the thing that worries me night and day,
And on which my entire thought is bent
Is, how can we fool that rooster?


This poem is in the public domain.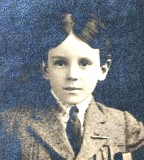 Alan L. Strang (1908 – 1919) was born in Spokane, Washington. His family moved to Redwood City, California when he was four years old. Highly intelligent but physically frail from birth, Alan wrote a number of poems as a child, many of which were collected in a book published the same year in which he died--at age 11. 
mail@schoolbusmart.com:
Great fun poem. What a loss of talent. Sad. Randy Mazie
Posted 03/14/2023 03:12 PM
Cathy's Sister:
Great find! Really enjoyed this poem.
Posted 03/14/2023 10:37 AM
cork:
It is so stupid to get out of bed before the rooster crows. When will we return to rooster time?
Posted 03/14/2023 09:33 AM
Darrell Arnold:
Funny and very clever. Fun to read aloud. I'm happy you found this one.
Posted 03/14/2023 09:04 AM
michael escoubas:
Wisdom and skill beyond his tender years. Astonishing find Jayne.
Posted 03/14/2023 08:50 AM
Joan Luther:
What a delightful poem! I often wonder what a difference someone like this could have made in the world had they lived a long life.
Posted 03/14/2023 08:09 AM
Ron Stewart:
I love this poem. Very clever by a very young, very talented boy. Here's the reason for DST/ "Daylight time was first enacted in Germany in 1915, then quickly adopted by Britain and much of Europe and Canada. Because the sun shone for a time while most people were still asleep in the morning, it was reasoned that light could be better used during the day. The solution was to push the clocks ahead one hour in springtime, forcing people to wake an hour earlier."
Posted 03/14/2023 06:56 AM