The eastern sky is streaked with red,
The weary night is done,
And from his distant ocean bed
Rolls up the morning sun.
The dew, like tiny silver beads
Bespread o'er velvet green,
Is scattered on the wakeful meads
By angel hands unseen.
"Good-morrow, robin in the trees!"
The star-eyed daisy cries;
"Good-morrow," sings the morning breeze
Unto the ruddy skies;
"Good-morrow, every living thing!"
Kind Nature seems to say,
And all her works devoutly sing
A hymn to birth of day,
So, haste, without delay,
Haste, fairy friends, on silver wing,
And to your homes away!


This poem is in the public domain.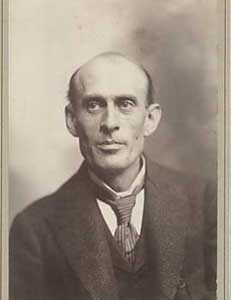 Eugene Field (1850 -1895) was born in St. Louis, Missouri, raised in Amherst, Massachusetts, and spent most of his adult life in Chicago. Best known for his children's poetry and humorous essays, he explored acting and law before turning to a very successful career in journalism. Eugene lost both parents before he was 20, buried three of his eight children, and died himself when he was only 45. He nonetheless seemed to have a happy and satisfying life, publishing more than a dozen books and forever endearing himself to the world's children by penning such classic poems as "The Duel" and "Wynken, Blynken, and Nod." Eugene's home in St. Louis is preserved and open to the public.
jentsch:
What joy!
Posted 03/21/2023 03:00 PM
michael escoubas:
What a wonderful, lilting poem! In times that are sometimes a bit somber and discouraging, leave it to poets, like Field, to lift our spirits.
Posted 03/21/2023 12:03 PM
CamilleBalla:
Cheery and expansive awakening to nature as the day begins. It was worth reading a few times to fully appreciate the poem,. Thanks, Jayne.
Posted 03/21/2023 12:01 PM
cork:
I recognized the name immediately.
Posted 03/21/2023 09:18 AM
Jancan:
This poem is solid proof that perfect rhyme and meter are not at odds with vivid descriptions and poetic expression! WONDERFUL choice for the day!
Posted 03/21/2023 09:11 AM
Anastasia:
The first school I went to was named Eugene Field, and our teacher would read one of his poems to us every day after lunch. Thank you for the nice memory, Jayne!
Posted 03/21/2023 09:00 AM
Darrell Arnold:
How I do love this poem. Rhyme and meter and wonderful images --"from his distant ocean bed rolls up the morning sun." Further, he writes in a different kind of English than I am used to speaking and hearing. I must read more old English again. It has much charm.
Posted 03/21/2023 08:14 AM