For, lo, the winter is past,
The rain is over and gone;
The flowers appear on the earth;
The time of the singing of birds is come,
And the voice of the turtle
Is heard in our land;
The fig tree putteth forth her green figs,
And the vines with the tender grape
Give a good smell.


This poem is in the public domain.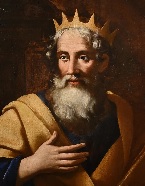 The Painting of King Solomon (Pesaro, 1670). [Oil on canvas].
Located at Ritratto del Re Salomone Museum.
Solomon (990 B.C. – 931 B.C.) was the son of David and the third king of Israel. Noted for his wisdom and success in overseeing numerous building projects during his 40-year reign, Solomon supposedly wrote several books of the Bible, including Song of Solomon. Experts disagree, however, on the validity of that claim.
Jancan:
Some of the most beautiful poetry ever composed can be found in the Holy Bible. This is a wonderful example. Great choice for the day
Posted 03/21/2023 09:18 AM
paradea:
Love this! Such power in the Scriptures! Hallelujah!
Posted 03/20/2023 12:21 PM
KevinArnold:
So conetemporary.
Posted 03/20/2023 10:20 AM
jentsch:
The spring voices we hear here in Kentucky are the spring peepers - and they are out in force despite our recent very cold nights. Thanks, Jayne!
Posted 03/20/2023 09:59 AM
michael escoubas:
Ah, Yes! Know this text. Gilbert is right about "turtle dove." With that said, the Bible's penchant for poetry is often overlooked and underrated. Thank you, Jayne.
Posted 03/20/2023 09:42 AM
Gilbert Allen:
"Turtle" might be shorthand for "turtle dove."
Posted 03/20/2023 09:20 AM
cork:
I have never heard a turtle's voice.
Posted 03/20/2023 09:14 AM
mail@schoolbusmart.com:
Loved it, even in this 18-degree cold morning Georgia Mountain weather. LOL Randy Mazie
Posted 03/20/2023 08:57 AM
pwax:
So be it.
Posted 03/20/2023 08:20 AM
JanetRuth:
A perfect Song of rejoicing for today! thank-you.
Posted 03/20/2023 07:41 AM
paula:
Amen.
Posted 03/20/2023 05:22 AM