A fawn with widely wondering baby eyes
stops in the center
of the two-lane road. It looks
as stunned by our sudden appearance
as we are by it in front of our car.
Hallelujah for space to brake!
We halt while we watch
the babe bunch its muscles, then bound
to the grass on the western berm.
 
Another fawn, less than
a mile along, leaps, unheeding,
across the asphalt span.
 
And again, a third fawn
a few turns farther down—
it stands off to the side,
grass and weeds nearly reaching
its knobby juvenile knees,
planted in place
as if uncertain
whether to stay or
where to go.


© by Margaret Adams Birth.
Used here with the author's permission.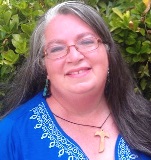 Margaret Adams Birth is a widely published poet and writer of short stories and novellas (some of them written under the pen names Maggie Adams and Rhett Shepard), short nonfiction, and even a few comic books. A native of North Carolina, she has also lived in the Blue Ridge mountains of Virginia, upstate New York, southern California, a rain forest in Trinidad, and now, New York City. In addition to being a writer, Margaret is a permanently professed member of the Secular Franciscan Order, a pianist, a singer, and a serious amateur genealogist. Learn more about her at https://www.facebook.com/MaggieAdamsRhettShepard.


Adriana:
I like "widely wondering baby eyes" and "planted in place/as if uncertain/ whether to stay or/where to go." And I like Larry's charming comment. What a positive personality he must have. All I thought about was the danger and the need to slow down when we drive...
Posted 03/28/2023 07:04 PM
Lori Levy:
Great portrayal of the 3 fawns.
Posted 03/28/2023 01:57 PM
Jancan:
Vividly descriptive and appealing piece
Posted 03/28/2023 10:58 AM
Sharon Waller Knutson:
Love this delightful cinematic poem. I can see the scene unfolding in front of my eyes like I am watching a movie. Favorite imagery: "widely wondering baby eyes," "babe bunch its muscles," and "knobby juvenile knees."
Posted 03/28/2023 10:41 AM
cork:
I often stop. I often turn on my flashing lights.
Posted 03/28/2023 09:31 AM
Anastasia:
A lively poem, and a good reminder to slow down on the roads!
Posted 03/28/2023 09:19 AM
michael escoubas:
Your line breaks suggest the irregular leaping patterns of these fawns. Don't know if you actually intended to convey that or not, Margaret. Quite nice.
Posted 03/28/2023 08:47 AM
Larry Schug:
The metaphorical message I take from this poem is that we're all fawns standing beside a road we need to cross despite the peril, but also with folks that watch for us, wishing no harms to come our way.
Posted 03/28/2023 08:02 AM