The phalanx of titanic
trowels trail the tractor,
abrading the creek-laved
earthís loamy flesh.

In its wake, crows cascade
groundward to feast upon exposed
grubs, like a congregation
on covered-dish Sunday.

Afterward, the roiled soil
awaits the discís laceration,
the harrowís comb, and
the planterís penetration.


© by Tom Hooker.
Used here with the authorís permission.
†
†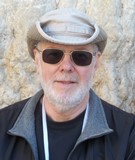 Tom Hooker was born and raised in North Mississippi, where he received a degree from the University of Mississippi. He and his family have lived in Hendersonville, North Carolina since 1988. Tom has had short stories and poems published in a number of literary journals. He is the author of Twenty-Five Angels, and he and Gary Ader co-authored a novel entitled The War Never Ends. Tomís newest novel is Year of the White Dog.
Lori Levy:
Great alliteration and images.
Posted 03/27/2023 12:13 PM
michael escoubas:
There's a lot to like in this poem Tom. I like it all, especially, "crows cascade groundward." I grew up in farm country of Central Illinois . . . I can relate.
Posted 03/27/2023 10:51 AM
Sharon Waller Knutson:
Love the alliteration in this powerful visual poem. Favorite imagery: "trowels trail the tractor" and "congregation on covered-dish Sunday."
Posted 03/27/2023 09:38 AM
cork:
So much depends on the preparation.
Posted 03/27/2023 09:33 AM
Joan Luther:
Powerful description! Ill never look at cultivating crops with lazy eyes again. Thank you for the amazing imagery
Posted 03/27/2023 08:48 AM
Larry Schug:
Great use of sound and language. READ THIS POEM ALOUD.
Posted 03/27/2023 08:03 AM