The mountain lake is filled with native trout,
awaiting my arrival every year
to view seductive lures and hear me shout
in search of echo over silver mirror.
 
And underneath the surface lurks the beast
I'd hooked for seconds many years ago
with bending pole and thoughts of gourmet feast
until my line went slack in evening's glow.
 
Another time, I thought, I'll catch this fish
and hear my line and drag burst out in song;
perhaps today I'll get my patient wish
unless the monster proves to be too strong.
 
Five miles of backwoods trails I've sweat and trod
to learn that I forgot to bring my rod.


© by C.F. Kelly.
Used with the author's permission.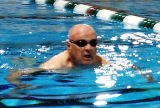 Cornelius Farrell Kelly lives in Pinedale, Wyoming, with his wife of 60+ years, in a house they built with the help of their ten children at an altitude of 7300 feet above sea level. The author of eight chapbooks and two published books, he writes a rhyming couplet every morning and posts it on his Facebook page. Cork is a competitive senior swimmer (he says he frequently gets ideas for a poem while swimming) and last October, he participated in the Huntsman World Senior Games.
Wilda Morris:
What a fun poem!
Posted 03/30/2023 08:21 PM
Lori Levy:
Great ending.
Posted 03/30/2023 06:55 PM
Anastasia:
Details! Pesky details! We've all had a day like this! Thanks for the good laugh!
Posted 03/30/2023 04:25 PM
Jannet A. Leahy:
What a fabulous last line, and the seductive lures, great language.
Posted 03/30/2023 12:15 PM
KevinArnold:
Ah, the metaphor in those mar-rhyming couplets.
Posted 03/30/2023 10:00 AM
Pat Brisson:
Made me laugh out loud. Thanks for that. (Also admired your rhyming skill.)
Posted 03/30/2023 08:37 AM
Darrell Arnold:
Good one, Cork. I'm laffin'!
Posted 03/30/2023 08:22 AM
Joan Luther:
Great fish tale!
Posted 03/30/2023 06:27 AM
mail@schoolbusmart.com:
cute. Randy Mazie
Posted 03/30/2023 05:25 AM