I ponder at what I see.
A point in the eastern sky
Larger than any star.

As I become transfixed by
Its bizarre shape and position
In these pre-dawn minutes,

I realize the object of my
Fascination is our old friend –
The golden crescent moon.

Clouds have obscured its
Radiance.

Undeterred, the falcate moon
Seems to gently pull itself
Away from the confusing
Gloom

And begins to glow in
Gentle brilliance.


© by Dan Batson.
Used with the author's permission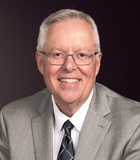 Dan Batson is a retired United Methodist pastor who lives in Marietta, South Carolina with his wife, Rene', and their cat, Ansie Gray. Author of a memoir, Morning, he is currently working on a collection of true stories he has used in sermons for the past 30+years. Dan enjoys spending time with his grandchildren and family. He has recently rediscovered his love of gardening and enjoys taking long walks in the mountains near his home.
Anastasia:
Lovely images!
Posted 04/02/2023 10:41 AM
Lori Levy:
Great ending.
Posted 03/31/2023 06:15 PM
KevinArnold:
Dan had me with his quote, "It reminded me of the confusing times in which we live and the clarity that is given to all." Indeed, his poem lived up to his statement, especially bringing up the strange pull of the moon.
Posted 03/31/2023 10:06 AM
Darrell Arnold:
That falcate moon grabs my attention on many an early morning walk with my dogs. I write poetry about it, too. How can one resist? Nice work.
Posted 03/31/2023 08:56 AM
Larry Schug:
"confusing gloom" to "gentle brilliance"--that's how I want my day and everyone else's to go today.
Posted 03/31/2023 08:11 AM