When April comes with softly shining eyes,
And daffodils bound in her wind-blown hair,
Oh, she will coax all clouds from out the skies,
And every day will bring some sweet surprise, --
The swallows will come swinging through the air
When April comes!

When April comes with tender smile and tear,
Dear dandelions will gild the common ways,
And at the break of morning we will hear
The piping of the robins crystal clear --
While bobolinks will whistle through the days,
When April comes!

When April comes, the world so wise and old,
Will half forget that it is worn and grey;
Winter will seem but as a tale long told --
Its bitter winds with all its frost and cold
Will be the by-gone things of yesterday,
When April comes!


This poem is in the public domain.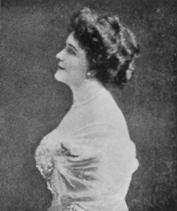 Virna Sheard (1862 - 1943) was a Canadian poet and novelist. She often used nature as a theme for her work.
Anastasia:
It's sunny, yet incredibly windy and cold - and the heat in our office building is on the blink, so we're all wrapped up in sweaters and gloves! Tomorrow, we once the heat is fixed, we should be able to enjoy April a bit more.
Posted 04/03/2023 03:46 PM
DavidTookey:
36 degrees this AM in Seattle. Sleet and snow yesterday!!! I think we are all ready for this extended-winter season to be finished. Lovely poem too!
Posted 04/03/2023 11:11 AM
KevinArnold:
Feels modern.
Posted 04/03/2023 10:06 AM
cork:
Wyoming is in a storm watch and expects lots of new snow today and tomorrow.
Posted 04/03/2023 09:07 AM
Larry Schug:
Not here in St. Wendel Township, Minnesota; another blizzard in the works later this week Our garden is buried under three and a half feet of snow. I'm worn out from dealing with it. Come on, May! Nice poem, anyway.
Posted 04/03/2023 08:47 AM
Wilda Morris:
Lovely.
Posted 04/03/2023 08:34 AM
Darrell Arnold:
I am soooooo ready for April. Our NW Arizona spring is three weeks late. We are all stir crazy. Honey-dos await. At last, I can get too them.
Posted 04/03/2023 08:27 AM
Joan Luther:
Nature is my favorite muse
Posted 04/03/2023 06:01 AM