Morning is a bright
colored piŮata,
hanging high,
promising surprises
that fall on your head.
†
If the day crashes,
pick up pieces,
sort through odds and sods,
rescue whatís important
and,
if youíre lucky,
taste something sweet.


© by Norma Wightman.
Used with the authorís permission.
†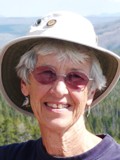 Norma Wightman lives in Morro Bay, California, where she walks the beach daily, leads nature hikes in local state parks, and enjoys yoga, kayaking, and birding around the beautiful central coast. Norma's poems†have appeared in local publications and art exhibits†and she has published chapbooks for family and friends. Her inspiration, she says, comes from†everyday items and nature.
†
†
†
MLove:
I love this thought! Thanks for a great poem!
Posted 04/02/2023 02:34 PM
Lori Levy:
Beautiful metaphor and poem.
Posted 04/02/2023 01:53 PM
cork:
Similes and metaphors adorn this poem.
Posted 04/02/2023 12:30 PM
cork:
La maana es una fiesta llena de sorpresas callendo de la piata.
Posted 04/02/2023 12:28 PM
Sharon Waller Knutson:
This uplifting poem is the perfect fit for April poetry month. I love the metaphor of morning being a pinata "hanging high, promising surprises that fall on your head."
Posted 04/02/2023 11:21 AM
Anastasia:
And sometimes, there's a fun toy or a shiny object as well!
Posted 04/02/2023 10:45 AM
michael escoubas:
In an age often characterized by darkness of rhetoric, Norma has drawn back the curtain on light and hope . . . she has given us peek into innocence. Dancing along with the joy of this poem. Thank you Norma!
Posted 04/02/2023 09:30 AM
KevinArnold:
Fine poem.
Posted 04/02/2023 09:17 AM
Joan Luther:
A joy to think of the day like this! Well done!
Posted 04/02/2023 08:29 AM
Angela Hoffman:
a wonderful reminder-thank you
Posted 04/02/2023 08:24 AM
Wilda Morris:
Clever poem - and good advice!
Posted 04/02/2023 07:55 AM
PmReid:
love this one: how creative and fun!
Posted 04/02/2023 06:31 AM