are stacked on the nightstand,
overflow onto the floor.
Some have been read once,
some twice or more.
A few are waiting to be finished.
Many are still waiting
to be opened the first time.
eBooks line up on
the tablet's carousel,
others fly up to the Cloud.
CD books fill a bag in the car trunk,
MP3 books wait in line
to be heard on the Walkman.
A file folder overflows with clippings,
recommended titles to read in the future.
There is a wish list at the library
and one at the online bookstore.
I want to read them all,
every book

but how will I find the time,
for there are newspapers,
magazines, social media sites,
emailóand I have things to do,
places to go, and poems to write!


© by Melanie Harless.
Used with the authorís permission.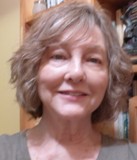 Melanie Harless lives in Oak Ridge, TN. She is a retired school librarian who enjoys reading, writing, photography, and spending time with her grandchildren. She wrote a monthly travel column for a regional magazine for a few years, and her creative nonfiction, poetry, and photography have been published in anthologies and print and online journals. Melanie is on the board of the Tennessee Mountain Writers and is a volunteer trip coordinator for the Oak Ridge Institute for Continued Learning, where she enjoys taking classes of all kinds.
†
dcblumenfeld@gmail.com:
Fun poem! Check out the June 10/17 2019 New Yorker cover, a copy of which is on my study wall next to stacks and stacks of books everywhere. I should post your very nice poem somewhere nearby. Thanks for a cute piece.
Posted 04/13/2023 10:24 AM
Michael:
I feel a kindred spirit here . . . come help me read all the submissions I receive for Quill and Parchment!
Posted 04/12/2023 05:10 PM
Anastasia:
Well said, Melanie! Plus, I have to take time for my day job, and eating and sleepingand the books are just waiting to be read!
Posted 04/12/2023 04:00 PM
Lori Levy:
Yes, so many books waiting to be read...
Posted 04/12/2023 02:57 PM
Melanie :
Thank you, everyone for your kind comments.
Posted 04/12/2023 01:33 PM
Sharon Waller Knutson:
Love this wise uplifting poem reminding us that reading and writing will never go out of style. Favorite image: eBooks line up on the tablet's carousel, others fly up to the Cloud.
Posted 04/12/2023 10:41 AM
cork:
There are so many poems.
Posted 04/12/2023 09:28 AM
Larry Schug:
I guess we'll all be departing this life someday, leaving a "Books to Read" List--if we're lucky.
Posted 04/12/2023 08:44 AM
Wilda Morris:
Melanie, when did you sneak into my house and look around? How did you know????
Posted 04/12/2023 08:42 AM
Joan Luther:
Oh, so relatable! A unique beginning: starting with a verb. I like that as much as a lovely book.
Posted 04/12/2023 06:42 AM