Go outside, of course.
How could you not?
With the sun shining
on the other side
of still bare trees,
making the sky seem
less far away, less
part of something
you never could attain.
Look, of course.
How could you not?
At the just starting
to appear tips of crocuses
pushing their way
through barely green grass,
at leaf buds on limbs,
almost ready to pop
open to warmth and rain.
Listen, of course.
How could you not?
To wind blowing
through limbs
across a sky
you've imagined would look
exactly the way it does.
Play, of course,
flinging your arms
high and wide,
running in circles
fast and free,
shouting each name
you know and hearing
your own called out.
Stop, lie down, rest.
How could you not?
You've made it again
and the whole world
seems willing
to take you in.
Mostly, breathe.
How could you not?


From Worlds Enough (Redhawk Publications, 2022).
Used here with permission.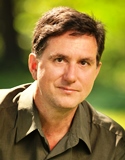 Scott Owens is the author of 17 collections of poetry and the recipient of numerous awards. Professor of Poetry at Lenoir Rhyne University and former editor of two poetry journals, he is the founder of Poetry Hickory, a monthly reading series. Scott's newest collection is Worlds Enough, a collection of poems for children. He lives in Hickory, North Carolina, where he owns and operates Taste Full Beans Coffeehouse and Gallery.Learn more about Scott here.

Jancan:
Excellent, vividly descriptive, appealing piece. I especially like how you have used the questions to introduce the various reactions to a great spring day.
Posted 04/11/2023 10:16 PM
asowens1@yahoo.com:
My thanks to all of you for reading and sharing the poem and for your kind comments, and of course, to Jayne for posting it. I hope you all had a day like the one in the poem. I know I did.
Posted 04/11/2023 07:19 PM
Lori Levy:
Makes me want to go outside and follow the poets advice!
Posted 04/11/2023 12:19 PM
Anastasia:
A fun and playful approach to Spring! Thank you, Scott!
Posted 04/11/2023 11:18 AM
Adriana:
Totally charming - I love everything about this poem and plan to send it to others - repetitive lines made me eager at each verse for what the next how to would be (I might prefer spaces between the suggestions) Happy Spring to all...
Posted 04/11/2023 11:09 AM
CamilleBalla:
How could I not comment on this lovely poem that shows how to be joyful and freely celebrate this day with open arms and singing my own litany of names!
Posted 04/11/2023 10:41 AM
Angela Hoffman:
I felt breathless as I reached the last lines. How could I not.
Posted 04/11/2023 09:01 AM
Michael:
How could you not look outside . . . well done, Scott and love the painting supporting the poem's occasion.
Posted 04/11/2023 08:59 AM
Joan Luther:
What a lovely song this would make!
Posted 04/11/2023 08:51 AM
Wilda Morris:
And read a lovely spring poem like this one. How could you not?
Posted 04/11/2023 08:26 AM