and I want to stand forever
silently admiring
the play of clouds, like great white
wings, flowing wildly across
the blue body of sky
Buffeted, morphing from
vast forms of feathery
light into subtle wisps,
they vanish
as the power of Aprilís
bracing airstream clears
the azure field into
one great spirit,
enfolding every thing
that was, is and will be.


© by Arlene Gay Levine.
Used with the authorís permission.
†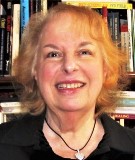 Arlene Gay Levine is an award-winning poet, author, and educator who lives with her husband in New York City. Her prose and poetry have been published in The New York Times, more than 30 anthologies, and in numerous literary journals. Arlene is the author of 39 Ways to Open Your Heart: An Illuminated Meditation (Conari Press,) and Movie Life (Finishing Line Press). Learn more about her at http://www.arlenegaylevine.com.
Jo:
I, too, am a fan of Arlene Gay Levine, and her beautiful and profound take on the world. I especially like one great spirit enfolding everything that was, is, will be. I feel enfolded.
Posted 04/15/2023 12:35 AM
Lori Levy:
Beautiful, peaceful poem. I agree with the comments below.
Posted 04/14/2023 07:29 PM
Arlene Gay Levine:
My thanks, YDP friends!
Posted 04/14/2023 05:44 PM
Michael:
This poem actually makes me feel "enfolded" in the world's welcoming arms. Thank you Arlene!
Posted 04/14/2023 11:29 AM
Sharon Waller Knutson:
I'm a fan of Arlene Gay Levine's beautiful writing. I love the imagery of clouds like wings on the body of a blue sky.
Posted 04/14/2023 10:18 AM
Wilda Morris:
Yes, there is something about the clouds and how they move across the sky.
Posted 04/14/2023 09:34 AM
Joan Luther:
Theres something relaxing about cloud-watching!
Posted 04/14/2023 06:13 AM