When it snapped Mama, yelled
across the yard to Mrs.Mac, who pulleyed

the new line tied to the old
back to Mama, who untied

the flittered and secured the new.
Then she parted the sea

of clothes, light from dark,
into the steaming water,

tossed in a cube that blued it.
Such alchemy blanched my soul.

On the ribs of a board she scrubbed
Ďtil her knuckles bled and lower back screamed.

After a cup of tea and a biscuit,
she ferried the washed to the window

in a willow basket, leaned it
against the S-shaped iron guard.

Like a shoemaker tonguing nails,
she teeth-snapped clothes pins and flapped

my fatherís shirt, pegged it until it floated
on Bronx breezes. Our lives swung

from that line: cabbage rose aprons,
Hopalong tees, railroad overalls.

From my classroom window, I could read
my familyís story writ against a witless sky

and knew Mama was safe until
the weight of our daily lives rent the line again.


© by Liz Dolan.
Used with the authorís permission.
†
†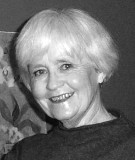 Liz Dolan is a retired English teacher who taught every grade from seventh through college. As director of an alternative school in the Bronx, where she was born and raised, Liz helped increase attendance from 65% to 90% by initiating a daily program of writing across the curriculum. Author of two poetry collections, Liz has won numerous fellowships and awards for her work. She now enjoys babysitting her ten grandchildren--who live a block away from her in Rehoboth, Delaware--in between writing poetry, short stories, and memoirs.
KinVT:
Beautiful and, yes, that last line was gut wrenching .
Posted 04/22/2023 10:02 AM
liz dolan:
Thank you all. I hope you will always have washing machines.Liz
Posted 04/18/2023 07:48 AM
Denise:
I remember well helping my grandmother hang clothes on the line in San Franciso of all places. Thank you for your vivid portrayal in the world of hanging clothes on the line. Enjoyed reminiscing with you.
Posted 04/17/2023 08:18 PM
Anastasia:
Such vivid images, and a compelling close from clothes!
Posted 04/17/2023 12:39 PM
Jancan:
I enjoyed this delightfully descriptive poem.
Posted 04/15/2023 11:59 PM
ghctenmile@earthlink.net:
I love looking at laundry on a clothes line--this poem is filled with joyful images. Thank you, Liz Dolan
Posted 04/15/2023 07:14 PM
Lori Levy:
Love the Bronx breezes (my father was born in the Bronx) and everything else about this very visual poem.
Posted 04/15/2023 01:02 PM
KevinArnold:
Yes, killer last line.
Posted 04/15/2023 11:27 AM
Leslie Hodge:
"the weight of our daily lives" - love that phrase!
Posted 04/15/2023 09:39 AM
cork:
I have a vague memory of the willow basket my mother used. I want to learn more about them.
Posted 04/15/2023 09:22 AM
Sharon Waller Knutson:
I loved this poem. It was delightful, charming and uplifting. I can see the line snapping, and the women pulleying the new line tied to the old, scrubbing the ribs of a board until knuckles bled, teeth-snapping clothespins, and lives hanging on the lines.
Posted 04/15/2023 09:17 AM
Larry Schug:
A poem, physically outside my life experience, but a whole new way of looking presents itself in these words.
Posted 04/15/2023 08:14 AM
Darrell Arnold:
Wow! Liz has opened up a new awareness for me. Having never lived in the city, high rise clothes lines were not part of my world, though laundry handing from ground planted clothes lines always have been. The story behind the clotheslines is perceptive and poignant . Thanks for this nicely presented new information.
Posted 04/15/2023 08:11 AM