Tiny pear blossom petals
slide down the runways of gentle breezes
not particular where they land,
decorating my hair like pearls,
tickling my face,
covering the brick patio
like a warm white blanket.
Leaving small green pears exposed,
so the sun can fold itself gently around them,
urging them to yellow ripeness.
Thousands of tiny sails,
letting go of beautiful puffy white snowballs
that clothe the ancient orchard tree
in my yard.


From Bainbridge Island, WA Poetry Corners competition chapbook (2022).
Used with permission.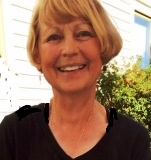 Judy Shimek Drechsler has lived in an 1867 renovated Victorian house in Port Townsend, Washington ("a charming Victorian Seaport Village, " she calls it) for the past 20 years, with her dog Emma. She stays busy tutoring foster children, singing, playing bridge, working out, and keeping up with a vigorous yoga practice. Most of Judy's teaching career was spent in Anchorage, Alaska, where she taught literacy courses for the University of Alaska-Anchorage and was a full time primary teacher in the Anchorage School District. Judy says poetry speaks most clearly to her when writing about her family and when major life changes hit—"as they are wont to do as you get older," she adds. Judy published her first book, Falling into One, in 2017.
Lori Levy:
So many beautiful images.
Posted 04/21/2023 04:12 PM
KevinArnold:
Love Pt. Townsend. Met w Raymond Carver there, at Centrum.
Posted 04/21/2023 01:17 PM
Anastasia:
"decorating my hair like pearls" - what a perfect description! Thank you for this lovely poem, Judy!
Posted 04/21/2023 01:11 PM
paradea:
Beautiful imagery!! I can feel myself sitting there!!
Posted 04/21/2023 12:17 PM
Wilda Morris:
Lovely images.
Posted 04/21/2023 10:57 AM
Denise:
Grateful for this beautifully written and delightful in the moment experience. From tree to ground to bearing fruit.
Posted 04/21/2023 10:40 AM
Sharon Waller Knutson:
I love this delightful poem with its many metaphors: runways of gentle breezes, pearls, warm white blanket, tiny sails and puffy snowballs.
Posted 04/21/2023 09:53 AM
cork:
I was looking for a partridge.
Posted 04/21/2023 09:24 AM