I can barely hear
my husbandís voice
murmuring endearments.
Does he realize heís
speaking in a low tone?
His words are like clouds--
nebulous, unformed--
I do discern the sweetness.

Wanting to grasp
his romancing,
I move closer to him,
Desiring his affection
As I slowly approach.
A soft object
Causes me to stumble,
Almost falling to the floor.
My husband is leaning down,
Continuing to whisper.
The truth suddenly dawns on me;
I suppress the urge to laugh.
His adoring expression is not for me--
Heís talking to the dog!


© by Jane H. Fitzgerald.
Used with the author's permission.
†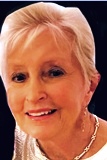 Jane H. Fitzgerald lives in Jupiter, Florida. A retired middle school history teacher, she's a big believer in experiential learning and once developed a hands-on, role-playing curriculum for the American Colonial period. Jane loves interacting with children but has also taught English to adult Hispanic immigrants. The author of four books of poetry, her work has been featured in numerous journals.
ilmutus:
Very cute, he clearly has a lot of love in his heart.
Posted 04/24/2023 08:42 PM
Wilda Morris:
A good laugh! Thank you.
Posted 04/24/2023 09:07 AM
Jancan:
Light-hearted, amusing, delightful
Posted 04/24/2023 12:02 AM
Michael:
One of the best I've seen, Jane! At least you felt endeared to his heart for a few, fleeting moments!
Posted 04/23/2023 05:54 PM
Anastasia:
Cute! Hopefully, he remembers to do the same for you!
Posted 04/23/2023 04:55 PM
Ron Stewart:
I too have been charged with paying more attention to the dog than to my beautiful wife.
Posted 04/23/2023 01:44 PM
Lori Levy:
Funny!
Posted 04/23/2023 01:37 PM
Cathyís Sister:
Laughed and laughed at this fun poem. Totally can relate!
Posted 04/23/2023 12:38 PM
Joan Luther:
Great set up and what a fun reward at the end!
Posted 04/23/2023 12:08 PM
PmReid:
Hahaha! Love this and totally get it as the animal-lover I am.
Posted 04/23/2023 07:52 AM
KevinArnold:
This poem is a delight, so endearing on so many levels, including what our pets mean to us.
Posted 04/23/2023 07:37 AM