Grant me deep roots.
Solid branches.
Let the fires pass me by.
Let generations of squirrels and blue jays
hop on my limbs.
Let me breathe fog, chew sunlight
and look down
over centuries.


From Foggy Dog: Poems of the Pacific Coast (2018).
Used with permission.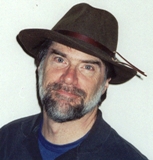 Joe Cottonwood is a semi-retired contractor with a lifetime of small jobs repairing homes. He lives with his high school sweetheart under redwoods in the Santa Cruz Mountains of California, caring for curly-haired dogs and straight-haired grandchildren. Joe's latest book is Random Saints. Learn more about him at www.joecottonwood.com.
paradea:
Love this!!
Posted 04/29/2023 12:06 PM
waldo47:
Makes me want to chew some sunlight myself!
Posted 04/28/2023 01:53 PM
Anastasia:
Beautiful! I'm going to take this with me on my next trip to Muir Woods and read it aloud. Thank you, Joe!
Posted 04/28/2023 01:33 PM
Lori Levy:
Brief, but powerful.
Posted 04/28/2023 01:22 PM
dcblumenfeld@gmail.com:
Nice. Simple, honest, real. So is "Official, Licensed Poet," on your website. Love it.
Posted 04/28/2023 10:57 AM
Sharon Waller Knutson:
Joe's poetry is always visual, witty and wise. I can see the squirrels and blue jays hopping on the Redwood's limbs. Love "breathe fog. Chew sunlight."
Posted 04/28/2023 10:31 AM
peninsulapoet:
Lovely
Posted 04/28/2023 09:48 AM
Wilda Morris:
Love it!
Posted 04/28/2023 09:37 AM
cork:
This is classic!
Posted 04/28/2023 09:28 AM
RonpoemsRonpoe:
So simple and honest. Thank you, Joe. When I was a traveling salesman, the Jedediah Smith grove, near Crescent City, saved my sanity more than once.
Posted 04/28/2023 09:24 AM
Jancan:
Concise and powerful
Posted 04/28/2023 09:10 AM
Michael:
Well done, Joe, really like your poem's succinctness and craftsmanship use of personification.
Posted 04/28/2023 08:53 AM