What kind of good fortune
to have dropped us here
in this minute, here, on this bench, me next to you,
you next to me, the ocean comfortably flat and blue as our bed.
Monterey cypresses, trunks lithe,
tall, reminding me of your long limbs,
purposeful, strong, moving, holding up
maybe even the sky;
not waiting at all for an official spring start-date—
all of this moving by its own calendar
and time,
ready in acquiescence, admiration, gratitude—
prepared in raging storms or in grip of fear;
 
but again, what about
the good fortune of happenstance—
I guess it's happenstance—
what good fortune that we converged here, now,
at the bottom of this hill, this ocean, this sky,
this moss under the bench, these sparrows mooching about,
this particular sun of all the suns, these very trees, this you, this me.


© by Grace Hughes Chappell.
Used with the author's permission.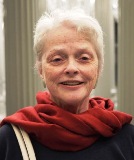 Grace Hughes Chappell says, over the years, she's been a mom, a daughter, and a sister, has taken care of 'things' (house repairs, car repairs, relationship repairs), worked as a private tutor, an English teacher, a travel agent, a receptionist, a telephone book delivery-person, a house cleaner, a reader to the visually impaired, a caterer, a snow-shoveler, and she has written. Her work is widely published and she is the author of ten mile creek almanac. Grace lives in northern California near the Eel River, where she and her husband maintain a garden and an apple orchard. Her advice for a good life is be as kind as you can be (and maybe a little more than that), enjoy your family and your friends, don't be a drag (laugh a lot, sing, dance, do anything that involves music), read a lot, learn to cook a decent meal, watch sunsets and birds and dogs, and—last of all—find something to do for which you have some aptitude. "You don't have to be a genius," she says, "just work!"


CamilleBalla:
Beautiful poem. Happenstance. all of this moving by its own calendar and time
Posted 04/28/2023 11:38 AM
Anastasia:
A lovely moment, captured in wonderful words!
Posted 04/27/2023 08:18 PM
Lori Levy:
Beautiful sentiment. Love, "the good fortune of happenstance."
Posted 04/27/2023 01:40 PM
Sharon Waller Knutson:
I love this uplifting visual poem with the description so vivid I can see "the ocean comfortably flat and blue as our bed. Monterey cypresses, trunks lithe, tall, reminding me of your long limbs, purposeful, strong, moving, holding up maybe even the sky..."
Posted 04/27/2023 12:07 PM
cork:
There is a stone bench in Park Circle that we had made for just such couples.
Posted 04/27/2023 09:23 AM
Wilda Morris:
I like the way the line breaks remind me of the ocean waves moving in and out.
Posted 04/27/2023 08:59 AM
Michael:
Beautifully conceived and expressed . . . this serendipitous moment . . . this lifetime happenstance "that dropped us here."
Posted 04/27/2023 08:53 AM