Digital breadcrumbs Ė the GPS map
on the dashboard blazes trails
that show where I should go.

Today I go to Mark, who cuts my hair,
to the post office, market, drug store,
library to load up on books.

Familiar roads Iíve traveled before Ė
driven miles in this same swath of suburb,
my circumscribed known world, scribing
and re-scribing a blueprint of my daily life,
a birdís-eye view without the bird.

Iíd like to think a bird Ė the one who
isnít here Ė would chirp a sweet sky song,
inviting me to fly outside the lines.


© by Sally Zakariya.
Used here with the authorís permission.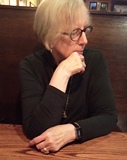 Sally Zakariya is a freelance writer and editor in Arlington, Virginia. Her poetry and articles have appeared in more than a hundred 100 publications and she is the author of seven books, including a poetry anthology about food, Joys of the Table. Sally blogs at www.butdoesitrhyme.com.
Lori Levy:
Great ending.
Posted 05/04/2023 03:23 PM
Anastasia:
"a birds-eye view without the bird" is wonderfully apt! Thank you for the reminder to go out of the usual routine, Sally!
Posted 05/04/2023 12:40 PM
David:
Its an invitation we all should accept occasionally. Very nice.
Posted 05/04/2023 12:18 PM
Sharon Waller Knutson:
Loved this uplifting poem. I can see a red cardinal soaring and singing with all those S's: "same swath of suburb" and "sweet sky song."
Posted 05/04/2023 11:55 AM
CamilleBalla:
Like *digital breadcrumbs*. Seems like you are listening to the invitation from that inner bird.. Fly, girl, fly!
Posted 05/04/2023 11:15 AM
RonpoemsRonpoe:
Love the contrast.
Posted 05/04/2023 10:51 AM
Wilda Morris:
I like "the bird's eye view without the bird." I also like to use printed maps!
Posted 05/04/2023 09:52 AM
Sarah Russell:
My world too, Sally!
Posted 05/04/2023 09:45 AM
KevinArnold:
What great fun . . . the freedom of the bird is the perfect contrast to the circumscribed trails of GPS. Well done.
Posted 05/04/2023 09:30 AM
Michael:
I don't mind a few boundary-lines . . . I still have wings, that from time to time, catch an updraft and lift me heavenward, then gently land me on the ground. Nicely done, Sally.
Posted 05/04/2023 09:05 AM
Angela Hoffman:
I connect with your poem. Oh-I need to fly outside the lines!
Posted 05/04/2023 08:36 AM
Larry Schug:
Sounds like you've received the invitation, go fly!
Posted 05/04/2023 08:35 AM
Shoshauna Shy:
I like this, Sally! I like "the bird's eye view without the bird"!
Posted 05/04/2023 08:30 AM