It creeps upon us under cover of darkness,
a presence forming on the sleep side of thinking
when seeming and dreaming are one and the same;
until that rumbling tumble of throat-clearing thunder,
once so distant it was a mumble in the mind,
suddenly blows through the open window
with a breath redolent of ozone and rain.

What follows the first fat drops is a drumming
beating a rhythm on the rooftop and panes,
and the scene outside, defined in bright flashes,
surrenders itself to the pummeling wind.
Itís then when the storm makes clear the connection
between us and the world in the immense sweep of time:
We are a murmur, a flicker of lightning, no more lasting
than the brief storm outside.


From Toes, Toads, Tulips & Turtles: A Miscellany of Verse (Four Windows Press, 2022).
Used here with permission.
†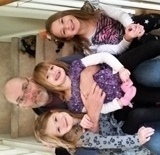 Mike Orlock is a retired high school English and American History teacher who divides his time between the Chicago suburbs and a vacation home in Sturgeon Bay, Wisconsin. He has been married for 46 years to his high school sweetheart and inspiration, Liz, and greatly enjoys being grandfather to five beautiful granddaughters who keep him, he says, "jumping like a frog on a hot skillet." Mike's short stories, poems, and reviews have appeared in a variety of publications and he is currently serving as Poet Laureate of Door County, Wisconsin, a position he will hold for the next two years. Mike's latest book is Toes, Toads, tulips & Turtles, released last fall.
Anastasia:
"the sleep side of thinking when seeming and dreaming are one and the same" - this line. This line! The whole poem is wonderful, and this line is amazing.
Posted 05/06/2023 01:38 AM
Lori Levy:
I feel like I'm in that storm. Great ending.
Posted 05/05/2023 01:45 PM
Jancan:
Magnificent, vividly descriptive piece~~very expressive figurative language, with a realistic philosophical observation at the end.
Posted 05/05/2023 11:14 AM
Leslie Hodge:
"we are a murmur" - wonderful!
Posted 05/05/2023 10:08 AM
Joan Luther:
Motivates me to do something with the moments that are given
Posted 05/05/2023 09:20 AM
dcblumenfeld@gmail.com:
rumbling tumble of throat-clearing thunder, ...a mumble in the mind Nice!
Posted 05/05/2023 08:41 AM
David:
Evocative and philosophical. Very nice.
Posted 05/05/2023 08:40 AM
Wilda Morris:
"We are a murmur, a flicker of lightning" - well-expressed and insightful, Mike.
Posted 05/05/2023 08:38 AM
liz dolan:
A flicker. Mike, good for my humility.
Posted 05/05/2023 08:34 AM