When your daughter turns fifty
and travels to be with you to celebrate,
you may think it is all about her. You bake
a special cake, make the cream cheese icing
with orange zest that she loves. You wrap
her gift, happy to have found something special.
You look through your jewel box for an heirloom
timely, for her to receive.
 
Then you put flannel on the winter bed, set out
fresh towels, pick golden chrysanthemums
to put in her room. Bring out the photo you took
of her with her daughter, just after she was born.
Such a flurry of readiness, it's hard to sleep.
And, admit it, you buy far too many groceries,
plan more meals than could possibly be eaten
in those few short days.
 
You wonder what to do first, then drive by the sea,
sit on the beach, stare past gentle waves into blue sky.
She tells you back home it is snowing. You linger.
And so the days will pass – afternoon in Chinatown,
wonton soup, lazy mornings in the upstairs den.
An ocean walk at sunset where you talk and laugh,
things suddenly funny.  She takes the photos now
and you don't seem to mind.
 
When she leaves, when the door is closed,
when the house is too silent again, you clean
the fireplace hearth, trim wicks on candles,
wash coffee cups, polish crystal wine glasses.
No end of things to be done.
You carry the vase of yellow chrysanthemums
into the den, set them on the tray, bend down,
take in the scent – robust still, as all of time.
 
You spend the afternoon, then, remembering
and remembering. You start with the patch
of chrysanthemums you both planted
on the homestead, beside the eastern fence.
How he picked a handful of them, straggly
by November, brought them to the hospital
to see his first child. How these flowers have
bloomed – in every garden since.


© by Judith Heron.
Used with the author's permission.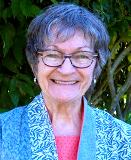 Photo Credit: Mandy Greyling Holmwood
Judith Heron lives in Victoria on Vancouver Island. She has been published in a number of chapbooks edited by Patrick Lane, and in three anthologies: A Murder of Crones (Ptarmigan Press 2007), The Wild Weathers: a gathering of love poems (Leaf Press 2012), and Poems from Planet Earth (Leaf Press 2013). Though she has always lived on the west coast of Canada, Judith cherishes the homestead traditions of her prairie heritage. She relishes the rituals of becoming an elder, which include permission to visit and work in various gardens and to spend more time "with the birds."

judithheron:
Thank you fellow readers for your appreciative comments. The title is a line from a much loved poem by Tao-Yuanming who lived in China in the 4th century. I omitted to include this credit when I submitted the poem to Jayne.
Posted 05/10/2023 12:35 AM
Jo:
What a beautiful poem. I want to read more of your work. Thanks, Jayne for always posting a poets books.
Posted 05/09/2023 11:21 PM
Lori Levy:
Beautiful memories.
Posted 05/09/2023 03:23 PM
liz dolan:
Love the images and sounds. liz
Posted 05/09/2023 03:16 PM
Anastasia:
What a lovely and surprise ending! All things come around in time, and flowers are wonderful in that they come every year. Thank you, Judith!
Posted 05/09/2023 02:17 PM
Joan Luther:
Our children can make every day that they choose to share seem special and your memory here is a nice reminder.HAPPY MOTHERS DAY!
Posted 05/09/2023 01:26 PM
Shoshauna Shy:
I love how you compressed time so effortlessly, Judith. Beautiful poem full of grace.
Posted 05/09/2023 12:36 PM
paradea:
Beautiful poem
Posted 05/09/2023 12:04 PM
Leslie Hodge:
Love this!
Posted 05/09/2023 10:57 AM
KevinArnold:
Fine poem. I was particularly moved by You spend the afternoon, then, remembering / and remembering. Reminded me that repetition, used sparingly, can be powerful.
Posted 05/09/2023 10:19 AM
joecot:
There's a wisdom in this memory that's warming my morning. Lovely.
Posted 05/09/2023 10:07 AM
cork:
I love flannel sheets and crystal wine glasses.
Posted 05/09/2023 09:36 AM
peggy.turnbull:
The poignant turn at the end speaks volumes about the gifts of memory--peace, comfort,strength.
Posted 05/09/2023 09:11 AM
Jancan:
Vividly descriptive, touching--nostalgia at its best, blended with the present.
Posted 05/09/2023 09:05 AM
Wilda Morris:
Lovely!
Posted 05/09/2023 08:56 AM
Michael:
Such sensitivity and grace . . . well done, Judith.
Posted 05/09/2023 08:43 AM
Ron Stewart:
I love this poem. Such detailed memories all tied up in chrysanthemums. You are very fortunate to have known Patrick Lane. I can almost see some detail of Patrick in your beautiful reminiscences.
Posted 05/09/2023 08:36 AM
Larry Schug:
Magnificent, demands many readings.
Posted 05/09/2023 08:22 AM
suzanne:
Such a beautiful poem.
Posted 05/09/2023 07:51 AM
Angela Hoffman:
You shared such beautiful moments.
Posted 05/09/2023 07:49 AM