If you have to leave your daughter
in her adopted town
2000 miles or more from the city
where you live, and this means
a flight with a Denver stop-over,
 
book it for early or mid-afternoon
so that breakfast is at leisure
in a sun-striped dining room
where a sprig of cherry blossoms
frame a window that shows
a road stretching to the mountains.
In your bowls are strawberries
 
while her hoop earrings swing
with a shine that echoes
the glint in her eyes.
She wears brand-new jeans,
hiking shoes for scuffy trails,
a sweater blue as sky,
and is planning a walk, upon
your departure, down the hill
to get papayas for lunch.
And if you depart
while the day is still young
 
it will make it easier than leaving
cloaked by the night
when you stare down from the plane
at the lights' spreading glitter
and she but a single one
somewhere amongst them all


This poem first appeared in Mothers Always Write.
Used here with permission.
Shoshauna Shy began writing at the age of eight on a manual Olivetti. She spends her days doing copy editing for other authors, writing poetry and flash fiction, and has a cat care service. Shoshauna is the author of six books and the founder of Poetry Jumps Off the Shelf and the Woodrow Hall Top Shelf Awards.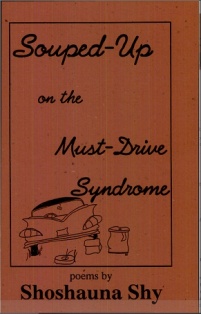 mszlyk:
Lovely, lovely poem, especially the ending.
Posted 05/28/2023 09:49 AM
Wilda Morris:
Beautifully written!
Posted 05/10/2023 08:51 AM
Shoshauna Shy:
Thank you, everyone, for your thoughtful words! It's so nice to get feedback from you.
Posted 05/08/2023 08:03 PM
Lori Levy:
Beautifully expressed.
Posted 05/08/2023 02:12 PM
Adriana:
As CB below says: Graceful and elegant. Touching. Like NB below: No children but know the feeling. A lovely poem; I like the stanza breaks too.
Posted 05/08/2023 12:42 PM
Anastasia:
Taking leave at night is so much more to deal with emotionally, and you've captured it well!
Posted 05/08/2023 12:09 PM
CamilleBalla:
Very good advice given in a heartfelt dance of just-the-right words. Thank you for this graceful, elegant poem.
Posted 05/08/2023 11:47 AM
joecot:
So much love and liveliness in the details of this poem. Thanks for inviting us to breakfast.
Posted 05/08/2023 11:18 AM
David:
Bittersweet and very nice!
Posted 05/08/2023 11:13 AM
Sharon Waller Knutson:
Loved waking up to read a Shoshauna Shy poem. I can see, smell, touch and feel the mixed feelings in this poem. Favorite image: In your bowls are strawberries while her hoop earrings swing with a shine that echoes the glint in her eyes.
Posted 05/08/2023 10:18 AM
peggy.turnbull:
I am ready for breakfast in that sun-striped dining room, a view of the mountains, and strawberries. This poem delightfully shows the line parents walk with their grown children--the dance between love and distance. Wise advice.
Posted 05/08/2023 09:11 AM
Angela Hoffman:
lovely
Posted 05/08/2023 08:43 AM
Larry Schug:
A beautiful word painting.
Posted 05/08/2023 08:28 AM
Joan Luther:
Makes me appreciate the memories with my children. Lovely sentiments so thank you for your words today!
Posted 05/08/2023 08:09 AM
NormaB:
I have no children but know that feeling. Well done!
Posted 05/08/2023 07:53 AM
wayne.goodling@yahoo.com:
Thank you
Posted 05/08/2023 07:04 AM