Well, son, Iíll tell you:
Life for me ainít been no crystal stair.
Itís had tacks in it,
And splinters,
And boards torn up,
And places with no carpet on the flooró
Bare;
But all the time
Iíse been aíclimbiní on,
And reachiní landinís,
And turniní corners,
And sometimes goiní in the dark,
Where there ainít been no light.
So boy, donít you turn back;
Donít you sit down on the steps,
íCause you finds itís kinder hard;
Donít you fall nowó
For Iíse still goiní, honey,
Iíse still climbiní,
And life for me ainít been no crystal stair.


This poem is in the public domain.
†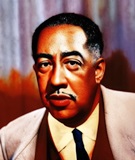 Langston Hughes (1902-1967) was a poet, novelist, journalist, songwriter, and playwright. In the course of his career, he wrote 16 poetry collections, 12 novels and short story collections, 11 plays, 8 childrenís books, 7 nonfiction books, and numerous articles and essays. Known for his insightful, colorful portrayals of life in Harlem, Langston was actually born in Missouri and spent his early years in Kansas under the care of his grandmother. He first lived in New York in his late teens, but traveled extensively throughout his adult life, finally settling in Harlem at age 45, where he remained until his death. A significant contributor to the "jazz poetryĒ genre, Langston credited Paul Laurence Dunbar, Carl Sandburg, and Walt Whitman as primary influencers on his work.
Anastasia:
This is a period of a lot of tacks and splinters - thank you for this poem, Jayne!
Posted 05/14/2023 10:44 PM
paradea:
Great poem!!
Posted 05/12/2023 12:50 PM
Sarah Russell:
Such a wise poem. And such a wise time to remind us all of it.
Posted 05/11/2023 04:07 PM
cork:
He makes his mother talk to him.
Posted 05/11/2023 09:28 AM
Michael:
Langston Hughes' light continues to shine . . . now brighter and ever before. We need his work; we are better because of his wisdom.
Posted 05/11/2023 09:09 AM
Larry Schug:
My mother's advice given in a different voice. I think this might be my New favorite Hughes poem. Thanks, Jayne.
Posted 05/11/2023 07:56 AM
Wilda Morris:
Thanks for sharing this poem. It has been a while since I read it and it was good to read it again.
Posted 05/11/2023 07:52 AM
liz dolan:
I have always loved that poem.
Posted 05/11/2023 07:44 AM