The song thrush and the skylark
Flew around exchanging tunes.
White horses from the ocean
Rolled in to kiss the dunes.
A light wind stirred the reed beds
Where a nightjar called a friend
As the stars up in the heavens
Brought the nighttime to an end.
The fresh and rolling waters,
Where the rivers rise and roll,
Left a deep enchanting magic
Along the edges of my soul.
Then I heard a blackbird calling
From a distance far away
That our Lord was pleased to bless us
With another glorious day.


© by Joseph Browne.
Used here with the author's permission.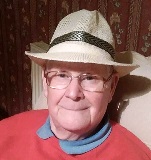 Joseph Browne lives in Archway, located in north London, England. Retired from a career as a plasterer, he now enjoys writing poetry, reading, and doing crossword puzzles.
Jancan:
Delightful poem--shows love of the creation and its Creator
Posted 05/19/2023 09:58 PM
Lori Levy:
Love all the birds in the poem. Can almost hear them.
Posted 05/19/2023 07:40 PM
judithheron:
This is the kind of poem, with rhythm and rhyme, that I grew up with. If my mother were still with us she would be happy to recite it at Sunday dinner. Thank you.
Posted 05/19/2023 02:20 PM
peggy.turnbull:
"White horses from the ocean"--I don't often find a new metaphor for whitecaps and crashing waves. This one is perfect. I loved the poem!
Posted 05/19/2023 12:16 PM
RonPoems:
Rolled in to kiss the dunes
Posted 05/19/2023 11:29 AM
Lyric:
This was lovely! What a pure and thankful way to look at a morning.
Posted 05/19/2023 10:50 AM
CamilleBalla:
Beautiful blessings of another morning so well crafted.
Posted 05/19/2023 10:41 AM
paradea:
This is beautiful!! I can see it and feel it!! Bravo, Mr. Brown!!
Posted 05/19/2023 10:40 AM
Cathy's Sister:
What a wonderful poem!
Posted 05/19/2023 09:40 AM
Larry Schug:
Glorious, indeed! A splendid account of the best part of the day.
Posted 05/19/2023 09:17 AM
pwax:
A beautiful poem! Not one unnecessary word.
Posted 05/19/2023 08:49 AM
Darrell Arnold:
This is a magnificent poem with awesome imagery and impeccable composition. Well done, Mr. Browne. This is one I'm going to try to memorize and quote. Truly wonderful.
Posted 05/19/2023 08:28 AM
PmReid:
Indeed, love the horses riding in from th ocean!
Posted 05/19/2023 07:48 AM
Jonah:
One of the best! Really liked it. Mike Jones.
Posted 05/19/2023 07:07 AM
Wilda Morris:
A beautiful poem to start the day! Thank you!
Posted 05/19/2023 06:39 AM