What keeps my heart awake is colorful silence.—Oscar Claude Monet
 —Poem inspired by Study of a Figure Outdoors: Woman with Parasol and View of Vetheuil,  both by Claude Monet


Slender clouds thinly paint the lower hills.
The rolling canvas is brushed in recumbent strokes,
muted oblong earth tones wash the curved fields and gnarly trees
    cast shadows daubed with breakthrough daylight.

I linger, watching that young, lithe, linen-clothed woman,
white parasol lifted gently over her soft shoulder,
    saunter dreamily along the crest.

The blue haze of the Blue Ridge  
reflects gauzy sunbeams as my eyes drift upwards
    to where she might now be standing.

She, and  that colorful silence Monet painted,
in his 1880s Vétheuil, France, stirs my heart awake,
    as does this Georgia countryside.


© by Randy Mazie.
Used with the author's permission.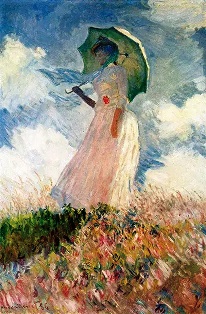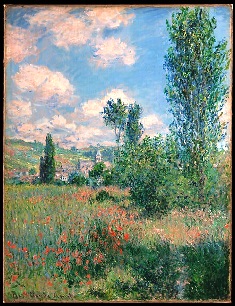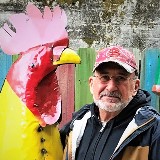 Randy Mazie grew up in New York City, made South Florida his home for many years, and now lives in the North Georgia mountains. He has Master's Degrees in Social Work from Columbia University and Business Administration from Barry University. Randy's non-fiction work has been published in professional journals and his poetry and short stories have appeared in numerous journals and anthologies. Learn more about him at www.ayearofencouragements.com.
Wilda Morris:
A wonderful quote from Monet, and a good poem, too.
Posted 05/19/2023 06:49 AM
Lori Levy:
Beautiful images and language.
Posted 05/18/2023 03:36 PM
CamilleBalla:
Monet *painted silence*. How exquisite a thought.
Posted 05/18/2023 12:06 PM
Michael:
Lovely interpretation and application of Monet's work, Randy. There were many impressionist painters, some very good, but none the equal of Claude Monet.
Posted 05/18/2023 10:21 AM
Joan Luther:
Monets inspiration well worded in your poem. I could meander through Monets brush strokes for hours blurring into days.
Posted 05/18/2023 09:52 AM
David:
Beautiful homage to both Monet and the Georgia countryside.
Posted 05/18/2023 08:19 AM
Larry Schug:
I like the idea that Monet "painted silence". Very original.
Posted 05/18/2023 07:37 AM