A long walk alone in the rain.
Puddles grow, drips shower,
sidewalks glisten. No voices,
no cars passing, gentle drumming
of drops on the umbrella.

The lap of lake water against
a hull, subtle curl and kiss,
a gentle lift and sink against
the bosom of waves, silent swell
rising like easy breath.

The warmth of welcome rest
after the world's work. Heady
and solemn, a dampening of care,
to drift away into the sure embrace
of the boundless peace of sleep.


This poem first appeared in a 2020 Leaves of Peace anthology.
Used here with permission.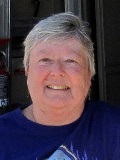 Yvette Viets Flaten was born in Denver, Colorado, and grew up in an Air Force family, living in Nevada, North Dakota, and Washington State as well as France, England, and Spain.  She holds a Bachelor of Arts in Spanish and a Master of Arts in History, and her award-winning poetry has appeared in numerous journals. Yvette now lives in Eau Claire, Wisconsin, near the mighty Chippewa River.
David:
Much to like here. I think my favorite line is rising like easy breath.
Posted 05/23/2023 03:42 PM
Lori Levy:
Soothing and peaceful.
Posted 05/23/2023 01:26 PM
bruceniedt:
Lovely. I feel calmer already!
Posted 05/23/2023 10:10 AM
cork:
Umbrellas are handy!
Posted 05/23/2023 09:13 AM
Wilda Morris:
I especially like "subtle curl and kiss."
Posted 05/23/2023 08:47 AM
Larry Schug:
The scene is a perfect reflection of the narrator's mood, his or her inner weather.
Posted 05/23/2023 07:34 AM