Queen of my tub, I merrily sing,
While the white foam rises high,
And sturdily wash and rinse and wring,
And fasten the clothes to dry.
Then out in the free fresh air they swing,
Under the sunny sky.

I wish we could wash from our hearts and souls
The stains of the week away,
And let water and air by their magic make
Ourselves as pure as they.
Then on the earth there would be indeed,
A glorious washing day!

Along the path of a useful life,
Will heartsease ever bloom.
The busy mind has no time to think
Of sorrow or care or gloom.
And anxious thoughts may be swept away,
As we bravely wield a broom.

I am glad a task to me is given,
To labor at day by day,
For it brings me health and strength and hope,
And I cheerfully learn to say,
"Head, you may think, Heart, you may feel,
But, Hand, you shall work alway!"


This poem is in the public domain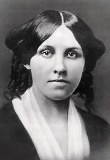 Louisa May Alcott was one of four daughters born to Bronson and May Alcott. Poverty was their constant companion; Mr. Alcott spent most of his life teaching and philosophizing and Louisa worked from an early age to help with expenses. She worked as a governess, a seamstress, a laundress, and a nurse but, at heart, she was always a writer. Her work ranged from gentle children's stories to torrid romances; her first book, published at the age of 23, was a collection of stories for Ralph Waldo Emerson's daughter, who was a friend and neighbor. (Other neighbors in Concord, Massachusetts, included Henry David Thoreau and Nathaniel Hawthorne.) Louisa's best known work is Little Women, which has never been out of print since it was first published in 1868; it has been translated into more than fifty languages.
Denise:
How the task of washing turns into a task as thoughtful as washing the stains of the week away, and busy mind has no time to think as stated. I have always admired her writing and now have one more reason to! Thanks for sending this along today.
Posted 05/22/2023 01:55 PM
Joan Luther:
The last lines remind me of 4H but she words it more eloquently. Thank you for sharing this, Jayne!
Posted 05/22/2023 01:17 PM
JanetRuth:
I love old poetry and I have many of her books in my library but none of her poetry! Jayne, thank-you for sharing this gem and cheering my 'Hand as it works always'!
Posted 05/22/2023 11:53 AM
paradea:
Love the old poets and their poems!!
Posted 05/22/2023 11:41 AM
CamilleBalla:
Energetic with perfect cadence as I imagine Louisa wielding her broom as she sweeps away the sorrow and gloom, goiing about her day in an accepting and useful way. Thanks for sharing this one, Jayne!
Posted 05/22/2023 11:23 AM
KevinArnold:
Yes, after such a careful setup, the final couplet-quote is most powerful.
Posted 05/22/2023 09:38 AM
KinVT:
Thank you Jayne! That was lovely-& perfect for a Monday, in particular. And I was just getting ready to hang out a load of laundry in the sunshine & Spring breeze.
Posted 05/22/2023 09:27 AM
cork:
Reading this aloud was indeed a pleasure.
Posted 05/22/2023 09:18 AM
liz dolan:
Oh my, laundry and Little Women.
Posted 05/22/2023 09:10 AM
David:
Very nice. (But I still dont like doing housework!)
Posted 05/22/2023 08:29 AM
joan:
I had no idea she wrote poetry! Thanks for this energetic start to my week
Posted 05/22/2023 08:25 AM
Wilda Morris:
Excellent poem. I didn't know Louisa May Alcott wrote poetry! Thank you for sharing this one.
Posted 05/22/2023 08:14 AM
Darrell Arnold:
She shows us how it's done. Most of my friends and acquaintances are those with hands that "shall work away." I'm going to try to memorize that last stanza and quote it to those good people.
Posted 05/22/2023 08:07 AM