To praise my tools, I wear them out. My hoe's
blunt tip is history in 2/2 time,
a simple chopping meter down the rows
of years that rose and fell like breathing. I'm
not finished yet. Who ever is? The work
that weeded me still needs me keeping watch
for what should grow and what should not. The dark,
the daze, the drench, the drought—I doubt I've brought
to fruit two-thirds of what I've planted: dreams,
a child, two dogs for every decade, roots
at last on this old farm I seed and weed
each spring as if it mattered. I love my tools
like friends deep-rooted through our history,
rounding out another year with me.


From With Access to Tools (Madville Publishing, 2023).
Used here with permission.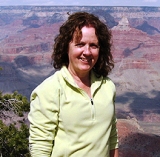 Dana Wildsmith's newest collection of poems, With Access to Tooks, was released by Madville Publishing this month. She is also the author of five other collections of poetry and a memoir, and was a Georgia Author of the Year finalist. Born and raised in rural South Georgia, Dana traveled extensively as a Navy wife before settling in Bethlehem, Georgia, on a century-old family farm outside Atlanta. Her love of family, nature, music, tradition, and life's simple joys is the focal point of her poignant, compelling work, which has been featured in numerous journals, magazines, and anthologies, including the highly acclaimed Listen Here: Women Writing in Appalachia. Dana is a gifted teacher as well, sharing her passion for language from ESL classes at Lanier Technical College to residencies acoss the country.  Learn more about her at www.danawildsmith.com.
Jancan:
Excellent planting and harvesting analogy
Posted 05/27/2023 12:04 AM
Jo:
A poem to re-read out loud. Is this a modern sonnet? I really like it. I enjoyed the sounds, the images. Very well done.
Posted 05/27/2023 12:02 AM
Lori Levy:
Beautiful language and images.
Posted 05/26/2023 10:49 PM
David:
I love the metaphor. A poem of wonderful musically as well.
Posted 05/26/2023 10:56 AM
RonPoems:
Love the sounds here.
Posted 05/26/2023 10:45 AM
CamilleBalla:
The work that weeded me still needs me keeping watch. Nice.
Posted 05/26/2023 10:36 AM
peggy.turnbull:
I applaud the music in this poem! I applaud the life it describes, too.
Posted 05/26/2023 10:23 AM
Gilbert Allen:
I enjoyed reading this elegant sonnet.
Posted 05/26/2023 09:16 AM
dcblumenfeld@gmail.com:
"years that rose and fell like breating": very, very nice!
Posted 05/26/2023 09:10 AM
KevinArnold:
Wonderful poem. Not being a person of the land, I mis-read the the first line and envisioned a tool belt, that she wore out in the world. But I read on, corrected my misreading, and truly enjoyed the poem.
Posted 05/26/2023 08:55 AM
Larry Schug:
My kind of poem, rich with image, very tactile.
Posted 05/26/2023 08:08 AM