It's quiet here.
I say prayers and pull weeds.
Clean headstones.
Decorate for Memorial Day.

Ancestors, grandparents, aunts, uncles.
The old white church watches over them.
Comforting when it's sunny,
somber when it's not.

As I look at their stones, I see them.
Great Great Grandma spinning at her wheel.
Great Grandma knitting socks for Eli.
Grandma's pies waiting for coffee time.

Wind and chimes pose questions.
It's not Grandma's Finnish accent I hear
asking, "What are you kids doing now?"
Just a pine cone falling from a nearby tree.

Spruced up for the next visit.
I survey their new homestead.
At midnight, it would be different.
It's quiet here.


© by Deb Tillman.
Used here with the author's permission.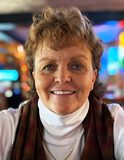 Deb Tillman grew up in a small town in northern Minnesota and now lives in Cloquet. Recently retired from a career with the Sappi Paper Mill, she's begun delving into genealogical research—and writing poetry. 
mszlyk:
Yes, this poem reminds me of when my mother used to bring us up to Fitchburg, MA to help her spruce up her family's plot at the cemetery.
Posted 05/30/2023 12:37 AM
Jo:
A lovely poem, Deb. Very peaceful. I like this new homestead.
Posted 05/29/2023 10:24 PM
Jancan:
So lovely and moving
Posted 05/29/2023 05:43 PM
Lori Levy:
This poem has a quiet beauty.
Posted 05/29/2023 12:09 PM
Anastasia:
This is beautiful, Deb. Thank you for sharing these images and emotions. One of the few things I miss about living near my family is that I am so far from the family plots, and cannot visit them. I visit through pictures instead.
Posted 05/29/2023 12:08 PM
Sharon Waller Knutson:
I loved this nostalgic powerful poem. I can see the grandmas clearly. Favorite images: Its not Grandmas Finnish accent I hear asking, "What are you kids doing now?" Just a pine cone falling from a nearby tree.
Posted 05/29/2023 11:20 AM
Denise:
A beautifully peaceful place explained, where generations rest, respectful and vividly imagined. Eloquently expressed Deb, thank you.
Posted 05/29/2023 10:40 AM
Cathy's Sister:
Nicely written. I can visualize the grave markers by the church and the quietness.
Posted 05/29/2023 10:04 AM
David:
Very nice. The repetition works beautifully.
Posted 05/29/2023 09:21 AM
bruceniedt:
A beautiful, simple, understated elegy. Well-done.
Posted 05/29/2023 08:40 AM
Joan Luther:
The peacefulness echoes in your words. Thank you for the reminder to remember loved ones who have gone before
Posted 05/29/2023 08:39 AM
Michael:
This poem, full of pathos, will reach many hearts Deb. Thank you.
Posted 05/29/2023 08:33 AM
Larry Schug:
This poem took me away from my screen and placed me within itself. "new homestead"--clever and perfect.
Posted 05/29/2023 08:14 AM