Low hidden in among the forest trees
An artist's tilted easel, ankle-deep
In tousled ferns and mosses, and in these
A fluffy water-spaniel, half asleep
Beside a sketch-book and a fallen hat -
A little wicker flask tossed into that.

A sense of utter carelessness and grace
Of pure abandon in the slumb'rous scene, -
As if the June, all hoydenish of face,
Had romped herself to sleep there on the green,
And brink and sagging bridge and sliding stream
Were just romantic parcels of her dream.


This poem is in the public domain.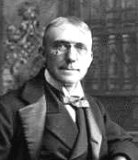 James Whitcomb Riley (1849 - 1916) was an American poet best known for his children's poems and dialect-based verses. James was born in Greenfield, Indiana, and later moved to Indianapolis; homes in both cities are preserved and open to the public today. James was hugely popular during his lifetime. A bestselling author who traveled the country speaking to sell-out crowds, he never married or had children of his own, but he loved children and they loved him back. When he died, more than 35,000 people came to pay their respects as James lay in state under the Indiana capitol dome.
Anastasia:
What a joyful and lush poem! Thank you, Jayne!
Posted 06/02/2023 12:08 PM
CamilleBalla:
A sense of utter carelessness and grace of pure abandon. I also like the way *that* fit in so well and unexpected to rhyme with *hat*. Wow!
Posted 06/02/2023 11:43 AM
joecot:
"hoyden" -- a boisterous girl. May we all write hoydenish poems.
Posted 06/02/2023 11:19 AM
Larry Schug:
"utter carelessness and grace", what a combo!
Posted 06/02/2023 08:08 AM
Gilbert Allen:
I'd never read this charming poem before. A good find, Jayne!
Posted 06/02/2023 08:03 AM
Joan Luther:
Wonderful poem! Inspiring!
Posted 06/02/2023 07:54 AM
liz dolan:
I love the sentiment, the details and the internal rhymes. Hoydenish? -love it, Jayne.
Posted 06/02/2023 07:17 AM