Thereís a lizard in my shower;
Manatees in my pond.
Ants snuck in my bran flakes
To build a little farm.
Dog sleeps on the sofa,
Kitty on my chair.
Critters seem to do just fine,
As if I wasnít there.
Mosquitoes buzz my hair-do;
Moths dance on my lamp.
Flies fly by & dive-bomb.
(Hate those little tramps!)
If they do this while Iím liviní
& treat me with no dread,
What will all these creatures do
When Iím finally dead?


From Dark Fruit (2022).
Used here with permission
.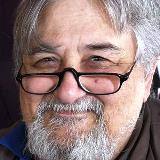 J. S. Lamb is a retired journalist in New Port Richey, Florida. Originally from Pennsylvania, he visited Florida in 1971 and never left. A Vietnam veteran, Jim is the author of two books, with a third in the works. He continues to publish freelance articles and enjoys playing the guitar. Learn more about Jim at http://www.jslstories.com/.
†
Adriana:
Spend my days negotiating peace with indoor insects so enjoyed this poem. To L.S. below - garbage, and flies, inspired a thrilling poem by Dorianne Laux.
Posted 06/03/2023 06:51 PM
Lori Levy:
Catchy, like the humor in this poem.
Posted 06/03/2023 01:38 PM
Sharon Waller Knutson:
I loved this charming delightful ditty that I could sing in my shower with a scorpion and a tarantula. Favorite lines: Mosquitoes buzz my hair-do; Moths dance on my lamp. Flies fly by & dive-bomb. (Hate those little tramps!)
Posted 06/03/2023 10:52 AM
Michael:
The little critters, no doubt, will do more of the same! The good news is you will be at rest without the envious pain in body in mind!!
Posted 06/03/2023 10:17 AM
Jancan:
This is delightfully entertaining!
Posted 06/03/2023 09:20 AM
Darrell Arnold:
After a while, some of 'em are gonna eat ya. But it's okay. The biomass must go on. You'll still be a part of it. I live with critters, too. Except for flies, I love havin' them around. Thanks for writing a rhyming poem.
Posted 06/03/2023 08:14 AM
Larry Schug:
I've written about- flies, myself. Who knew a fly could inspire poems. The question about what will happen in the narrator's absence is intriguing, if taken a little bit deeper.
Posted 06/03/2023 08:09 AM
mail@schoolbusmart.com:
Cute one! I enjoyed reading it. Randy Mazie
Posted 06/03/2023 07:32 AM