With apologies
to the ancients
who gave us Air,
Earth, Water, and Fire.
There are but
three elements
that form
all that is—

Matter,
Things That Don't Matter,
and Irony,
which binds it all together
in the unending
paradox
we know
as life.


From The Funny Thing About a Poem (2019).
Used here with permission.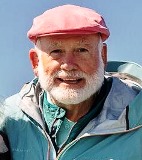 Randy Cadenhead is the author of a number of books of poetry and prose, most recently At Sea, about life on the water, and A Christmas Carol Refrain, which explores the later life of Ebenezer Scrooge. Although he teaches at Emory Law School, you are more likely to find Randy sailing somewhere in search of the perfect sunset. Randy lives in Decatur, Georgia; learn more about him at www.randycadenhead.com.
.
liz dolan:
Loved the clarity and simplicity of this poem, Randy.
Posted 06/05/2023 04:57 PM
Lori Levy:
Love those 3 elements that matter!
Posted 06/05/2023 01:11 PM
RonPoems:
Poetry can be funny, punny, and wise.
Posted 06/05/2023 10:39 AM
Denise:
Enjoyed the play on what matters with truth in tow! Thank you.
Posted 06/05/2023 10:18 AM
dcblumenfeld@gmail.com:
Nice.
Posted 06/05/2023 09:11 AM